LinkedIn Launches Content Channels

20 new categories allow members to further tailor their content sources.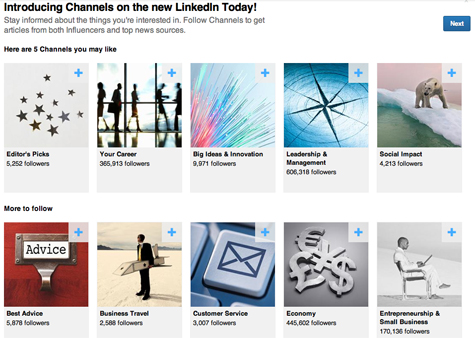 LinkedIn is continuing its march toward a more in-depth media and content play with the addition of topic channels to its LinkedIn Today service.
The 20 or so categories are part of a larger redesign of LinkedIn Today and allow members to discover and arrange more content relevant to their markets and interests.
Categories include Business Travel, Healthcare, Law & Government and Retail. The Channels essentially allow members to tailor their content needs more specifically. When a channel is followed, its content is fed directly into the member's  homepage stream.
The Channels also enable users to add some of their own customization and choices on top of the content that's already tailored to who they're following and what their connections are reading.
The broader LinkedIn Today redesign now groups category news, Influencer posts and Slideshare content in one location. And users can tailor their own page to reflect just the content they're following.
The effort, following the launch of LinkedIn Today two years ago and the Influencer series last fall, edges the platform further into its content strategy aimed at driving more engagement from members outside of activity related to networking and job hunting.
Its $90 million acquisition of Pulse, a mobile news content aggregation service, in April was another step in this direction. "Our vision for content is that LinkedIn will be the definitive professional publishing platform," said Deep Nishar, LinkedIn's senior vice president of products and user experience, at the time of the acquisition.
The retooling also comes on the heels of a very good quarter, with revenues up 72 percent versus the same period last year to $325 million. Net income also jump up from $5 million last year to almost $23 million this year. The company says it grew its member base to 218 million.
Meet the Author
---