Laura Jeanne Hammond

VP, Editor-in-Chief, Publisher, Next Step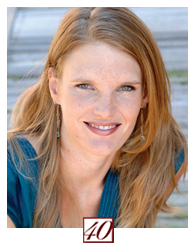 At age 28, Laura Jeanne Hammond has been with Next Step almost half her life and says she already has her "dream job."
She started as an intern during her sophomore year of high school, shortly after the magazine launched in 1995. She took over as editor-in-chief about a month after graduating college and added on the title of publisher last year.
Since she started with Next Step-a publication for teenagers about college, career planning and life skills-the magazine's circulation has grown to be distributed in more than 20,500 high schools and has gone from distribution to high schools in five states to 50. In 2007, Next Step won an award for Periodical of the Year in the young adult category from the Association of Educational Publishers (AEP), beating other nominees like The Wall Street Journal Classroom Edition, Scholastic Art, and The New York Times Upfront. In previous years, the magazine received AEP awards for most improved, best educational portal, and whole publication design, among others.
One of Hammond's priorities is finding new ways to get teens involved. She also speaks at high schools around the country and has instituted a 4,000-member advisory board, a group of teens who critique each issue of the magazine, promote it to family and friends and offer opinions and article ideas in exchange for T-shirts, a subscription, and the opportunity to be featured in the magazine.
Hammond attributes her success, in part, to the freedom she's been given since becoming editor-in-chief-one week after she started, the company's CEO had to go on a three-week trip to Italy, leaving her to steer the ship. She also credits her internships. While freelancing as managing editor of Next Step, Hammond interned at National Geographic Traveler, the City and Regional Magazine Association, the Messenger-Post newspapers, and a British tabloid's gossip column.
VITAL STATS: Next Step's circulation has grown to distribution in 20,500 high schools, from distribution in five states to fifty, since Hammond joined the magazine shortly after its launch in 1995. The title has also won major national awards including Periodical of the Year from AEP.
Meet the Author
---