Latina's 'Viva Mexico' Special Issue Debuts Custom Covers and Generates Additional Revenue, Advertisers

Breaking away from women's service design helped Latina gain new advertisers.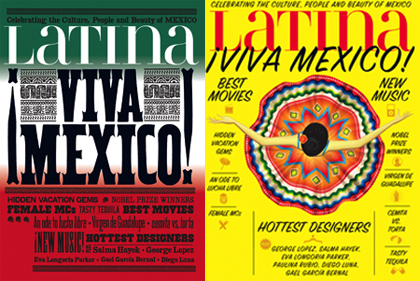 Here at FOLIO:, we receive a sizable number of magazines in our mailboxes every day. Needless to say, we notice when a title touts a particularly interesting, out-of-the-box concept. So when Latina, a women's service title geared toward young, bilingual women, scrapped its typical cover model concept and debuted two poster-quality, Viva Mexico covers, it didn't go unnoticed by us—or new advertisers.
"This beautiful country is not all H1N1, drug wars and violence. Mexico is so much more and this issue serves as a reminder," said Mimi Valdés Ryan, Latina's editorial director of the November 2009 issue which pays homage to Mexico. "Since this special issue is such a departure from our regular format, a celebrity cover model just didn't feel right. If we used a Mexican celebrity instead, I don't think it would have been as visually clear what the theme of the issue was. With these covers, there's no mistaking what this issue is about."
Latina's design director Florian Bachleda decided upon two cover artists, Jesse Reyes and Rodrigo Corral, to compete for the cover, with the runner-up's design going inside to open as the main Mexico feature. But Valdés Ryan was "blown away when they [the covers] came in, and couldn't decide on which one should be the cover. To make matters more complicated, the staff was also evenly split," she told FOLIO:.
The graphically strong concept covers look more like bright, authentic posters or newsweekly covers than that of a women's service title covering health, beauty and lifestyle.
Bachleda said that Reyes'cover, influenced by Mexican boxing and lucha libre (wrestling) posters, used "selected letterforms that are more than a century old and were in keeping with typestyles still being used in Mexico." Corral, responsible for New York's "Reasons to Love New York," among others, was a "no-brainer" for a Mexico issue designer, and pulled from traditional Ballet Folklorico dances as the graphic inspiration, Bachleda said.
Each of the drastically different cover approaches appealed to various types of readers, which was the reason Latina decided to keep both and do a split run of the covers for newsstand and subscribers.
Like many women's service titles this year, Latina Media Ventures' publication was hit hard, with the 506,000 circ title seeing ad revenue fall 32.4 percent in the first half of this year, according to PIB. But the two custom Mexico issue covers—and the special issue editorial, of course—were able to secure a 6 percent increase in additional issue revenue based on new advertisers Sephora, TBS (Lopez Tonight), Dos
Equis and Goya, said a magazine spokesperson.
It's always nice to be reminded that a good edit concept and innovative design don't go unnoticed by readers—or advertisers.
Meet the Author
---