Larry Burstein

Publisher | New York Media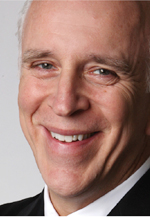 We are a content generating company that also generates revenue—we're not just a revenue generation business.
Our content builds a community, and within this community we have many different constituents. Surprisingly, there is very little overlap between our print and online communities. Having been in the magazine business for a long time, the physical product of New York has certain limitations when it comes to distribution and circulation. But an electronic version has opened up unlimited possibilities for New York. Our unique visitors are 10 times our print circulation. Ultimately, we're an authority on New York, and online we have a community of virtual New Yorkers all over the country.
Really, our transition began in 2004 when Bruce Wasserstein bought the magazine. Previously our Web site's primary focus was fashion (it was a joint venture between Cablevision and Primedia), with things like Full Frontal Fashion, but for the most part content was archived from the print magazine. When Wasserstein bought the magazine, we saw the potential of the Web and began loading all New York's content online. Now, we post something new on the site every 20 minutes between our four blog networks. The Web is something that is constantly reinvented.
While we have some advertisers that are magazine-only and some that are Web-only, many of our larger advertisers are doing both, which is really where I see it going. Almost everything we do now is integrated.
New York Media has two sponsor-driven events that are used to generate sponsor revenue: Taste of New York and the New York Culinary Experience. Revenue from these events is clumped into a client's  integrated packages. For example, if an advertiser buys a sponsorship to an event, they also get 'x' number of pages in the magazine, 'x' amount of online exposure, etcetera.
The amount of revenue we've seen going to online is growing. In 2009, we're anticipating online revenue to be around 25 percent, up from 20 percent last year. We've invested in a new Web site, in addition to closing on the site MenuPages in September 2008, which will contribute to our digital portfolio.
The Web has created an overarching brand. Here is a comparison in numbers:
NY DMA Circ: 66.83%*
non-NY DMA Circ: 33.17%
Source: 2008 ABC Market Coverage Report *Based on Total U.S. Circ of 2007 issue with highest circulation- 437,925 total copies
Nymag.com NY DMA
unique visitors: 36.6%
Nymag.com Non-NY DMA
unique visitors: 63.4%
Source: May 2009 Quantcast, Base: Total U.S.
Meet the Author
---