Kill Screen Turns to Kickstarter to Relaunch Print Quarterly

The culturally-refined video game mag returns to crowdfunding to introduce a regular, quarterly product.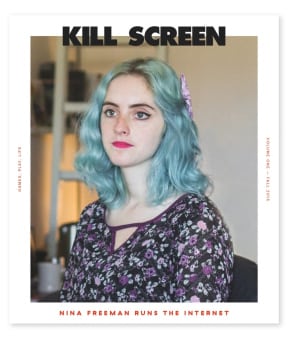 "We want to show the world why games matter," reads the masthead of Kill Screen, the digital and print magazine that takes a decidedly artistic and cultural approach to covering the world of video games.
Former Wall Street Journal arts and entertainment reporter Jamin Warren first conceived Kill Screen back in 2009, when he set out to change the way video games were covered in the media, noting the ever-increasing intersections between gaming and art. Warren turned to crowdfunding platform Kickstarter to help get the project off the ground and, with the help of 160 individual backers, raised $5,949.
Six years later, Warren's passion project has grown into a vibrant online community and news site with an accompanying—yet irregularly published—print magazine that more resembles a coffee-table collectible than it does the latest issue of Nintendo Power (shuttered in 2012).
Seizing the opportunity, Warren returned to Kickstarter for an even more ambitious round of funding, aimed at making the magazine "bigger, bolder, and better looking than ever before.
"It's really about bringing the print magazine up to speed with what our website has become," editor Clayton Purdom, who helped fund Kill Screen's original Kickstarter campaign before joining the team, tells Folio:.
Launched on November 3 with a goal of $68,000, the Kickstarter campaign was a rapid success, raising $77,471 in just over a month through 1,399 backers. Armed with an influx of capital, Kill Screen is set to relaunch its print component by midsummer.
"Some of the biggest changes will be to the overall look and feel of the magazine," says Purdom. "To that end, we've brought on a brilliant photographer, David McDowell."
The magazine is upgrading in size, to 8.5'' x 11''. The new, larger format will allow McDowell's photography to become a centerpiece of the product, surrounded by more white space and less cumbersome columns of text, according to Purdom.
"We're the first video game magazine to put a human being on the cover," Purdom adds. "We are interested in covering the people involved in creating games, not just the games themselves."
Apart from the design changes, which will be spearheaded by art director Justin Kielbasa, the revamped Kill Screen magazine will feature more in-depth reporting and long editorial features, and will be upgraded to a regular quartlery schedule, allowing it to cover more timely stories.
Part of bringing the print magazine up to speed with the website also means refining its editorial focus, emphasizing the independent creators and developers that are changing the face of the industry, says Purdom, featuring work by the writers with whom Kill Screen's online audience has come to familiarize itself. This is a reflection of the changing nature of an industry once dominated by corporate giants.
In addition to funding on Kickstarter, Kill Screen is supported by subscription and single-copy sales, as well as advertising. The revamped magazine will be printed by Minnesota-based Shafco.
Meet the Author
---