John Zieser

Chief Development Officer and General Counsel, Meredith Corp.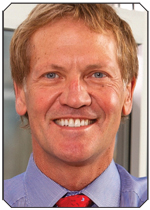 With a legal, finance and management background, John Zieser has been instrumental in brokering more than 50 acquisitions since joining Meredith Corp. in 1999.
As chief development officer and general counsel at Meredith Corp., John Zieser is in charge of acquisitions.
"I am jazzed every morning. There have been a lot of accomplishments—particularly transitioning from traditional media company to a true multiplatform leader," Zieser says.
In 2007, Meredith launched Xcelerated Marketing, a full-service direct and digital marketing agency that has expanded through acquisitions: O'Grady Meyers (online services), Genex (digital), Directive (database analytics), BIG Communications (healthcare marketing/communications), New Media Strategies (social media), the Hyperfactory (mobile marketing) and, most recently, iris Worldwide (international marketing).
In 2011, Meredith bolstered its presence in the food space, with the acquisition of EatingWell and the launch of Recipe.com, which Meredith describes as "a multi-channel food brand that pairs recipes with digital coupons and marketing."
"We are now clearly the food leader in the world," Zieser says.
Other notable acquisitions under Zieser's guidance include inking deals for 30 international editions, multiplatform media brands Every Day with Rachel Ray and EatingWell, plus numerous licensing deals, including a Better Homes and Gardens-branded product line at Walmart.
Zieser characterizes himself as "part negotiator, part prospector advisor, part valuator and part analyst."
For 2012, "we will be opportunistic in the consumer online space," Zieser says. With 2012 a presidential election year, Zieser expects television and cable stations to do well, with several going on the block.
VITAL STATS: Acquisitions at Meredith Corp. have helped boost magazine readership to 115 million, monthly unique Web visitors to 45 million and unduplicated audience reach to 100 million—each at all-time highs. Additionally, Meredith sold 2.5 million online subscriptions in 2011.
Meet the Author
---