John Q. Griffin Out At Time Inc.

Had served as president of the News Group under Jack Griffin.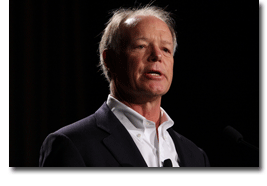 It was only a matter of time. John Q. Griffin, the former National Geographic president who joined Time Inc. back in December as president of the new Time Inc. News Group, is leaving the company.
He becomes the latest executive hired during Jack Griffin's five-month stint as Time Inc. CEO to depart since Griffin (no relation) was let go in February. Kim Kelleher, who was previously promoted to publisher of TIME, now takes over as worldwide publisher while Richard Evans, president of Time & Fortune International, will report to Kelleher.
Randall Rothenberg, the former IAB CEO who Jack Griffin hired last December into the new Time Inc. position of chief digital officer, went back to IAB in February.
Griffin [pictured] spent nine years at National Geographic before announcing his retirement last October (he also stepped down as chairman of MPA that month as well).
Meet the Author
---