John H. Graham IV, CAE

CEO & President, ASAE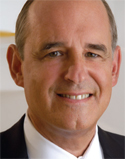 ASAE and its 21,000 members represent leading trade association, individual membership societies and voluntary organizations across the United States and in 50 countries around the world. We have seen how our members and those outside the association space have been impacted by the publishing environment. Print revenue is decreasing and digital is increasing, which impacts magazines, newspapers and periodicals.
Our members are consuming content in multiple formats (iPad, iPhones, Kindles, apps, etc.), and we are competing with free media sources and content marketers. In order for us to continue to deliver value, we have had to find innovative ways in how we deliver our content. So, in the last 18 months, ASAE has implemented strategies to expand how we disseminate our content as well as to increase awareness with new markets.
One of the strategies we have implemented is partnering with Wiley to co-publish some of our content, so we can enhance our delivery of content through multiple formats. Although this is a significant shift for us, we see it as a great opportunity because we are able to develop more interactive content and tools for our members as well as disseminating our research and publications in the formats they are utilizing on a daily basis.
In October 2012, we launched our new daily newsletter called Daily Now. Although the concept nor channel is not new, we had to think about creative ways to produce content that would be appealing on a daily basis for different audiences. Within the first year, we have had tremendous results including the number of non-member subscribers, time spent reading articles, engagement on social media, and people reading and downloading the Associations Now app.
The publishing industry is a fast-changing landscape, and ASAE will continue to adapt to ensure its products and services remain highly valuable and readers are consuming the quality content they deserve.
Meet the Author
---