Job-Hunting in '08

Online self-promotion and marketing become more prevalent.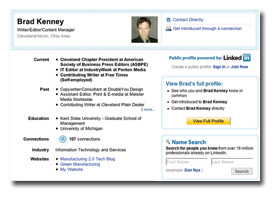 Frustrated by the mainstream media approach to politics, Ryan Sholin, a grad student in the School of Journalism & Mass Communications at San Jose State University, launched a blog (ryansholin.com). Sholin was smart in his posts and also smart in using online as a promotional tool. His work caught the eye of a number of media pros, including b-to-b media consultant Paul Conley, and Howard Owens and Bill Bevins of Gatehouse Media.
In September 2007, Gatehouse offered Sholin a job. "I had run into Ryan first through his blog," says Conley. "And I was hardly alone. Ryan was exceptionally smart and he was very sophisticated in using the online world to market himself."
That type of online self-promotion will become more prevalent in coming years. Bloggers like Will Sullivan, the voice behind journerdism.com, have emerged as new media leaders, thanks to their own personal online presence.
For magazine people seeking jobs in 2008, the usual tactics of scouring the online classifieds still apply. However, online tools are increasingly becoming important, whether it's doing your own separate blog or leveraging a social network to get noticed. And don't forget to use the Web to check out your potential employers.
Getting the Most Out of Social Media
Social media has gone mainstream and it's no longer for the bubble gum set. Last month, professional networking site LinkedIn announced a new program that allows partners to build companion applications on their sites. BusinessWeek is the first partner in the initiative.
In his November/December ASBPE president's letter, BNA Tax & Accounting senior state tax law editor Steven Roll wrote about his LinkedIn experience. "LinkedIn is searchable, so I included the words 'state tax,' which relates to what I write about," says Roll. "Two weeks later, a recruiter from a big-four accounting firm called to see if I'd like to write about state issues for them. She wouldn't reveal her sources, but I'm convinced that she found my profile on LinkedIn."
Brad Kenney, associate editor at IndustryWeek and the new president of ASBPE's Cleveland chapter, is trying to spread journalistic online competencies through the association. Kenney advises that social network profiles be treated almost like your company's Web content—keep it updated and make it relevant for search terms. "It's like coding a Web site," Kenney says. "Not only will that force you to think about your strengths but it will let you be searchable."
While independent bloggers like Sholin have succeeded, Kenney wonders how feasible it is for a full-time editor to launch a personal blog. "That can eat time like nothing else," he says. "I took my own personal blog down. I only have a work one now."
However, those independent bloggers very much remain competition and require editors to raise their own bar. "Information-gathering competency is something where the average person can use the same tools you can," says Kenney. "You have to become that much better than they are, such as knowing how to use Google Advanced Search."
Kenney also uses a social bookmarking site to see what's causing controversy in the areas he covers and advises every editor to have a feed reader. "I use the LinkedIn question and answer section because it's a good way to see where people are staking out and their professional competency is on the line," he says. "The answers are generally pretty good."
Assessing Potential Employers
It cuts both ways—not only should potential employers be considering your online presence, you should evaluate theirs, including LinkedIn and Facebook profiles of would-be managers. Also evaluate the company's Web site. "You can tell about the quality of their site and if they've done any coding," says Kenney. "Do they have knowledge of how things should look on a Web site? Are they blog-enabled, do they have 21st-Century tools for disseminating information? Do they have bookmarking services? Not only is that important to me as a journalist but a strong Web presence bodes well for future revenue and in turn, long-term employment."
But ultimately, it's still editorial skills that gets one hired, not just a pretty Facebook account. "We hire people because they can write," says Kenney. "The Web stuff—getting involved in forums, setting up blogs, getting them set up on LinkedIn—that you can teach."
Meet the Author
---