Jim Casella

Chairman, CEO, Asset International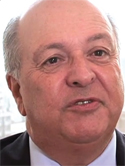 Asset International provides business intelligence to the world's leading financial institutions, with a strong focus on fund flows. We integrate market data, research, conferences, online and mobile media to help these institutions grow their businesses across the globe. We report on over 150,000 funds to our client base, which relies on this information to make critical product decisions.
For most of our history, we delivered this data by installing client/server systems into each client's business. Over the past two years we've adopted a Software as a Service (SaaS) model, providing customers access to big data in a secure Web-based environment called Simfund. Using Simfund, our customers can continue to track monthly fund flows, but now they can see where their funds are being distributed. They can also enhance their market position using Simfund's benchmarking, allowing them to determine the most efficient distributors.
As we have expanded with acquisitions in Canada and Australia, our big data approach allows seamless integration of new offerings and easy access for clients around the world. Our experience has shown that clients are willing to pay for market data when it is delivered in this way. Since launching Simfund 7.0, our business has outpaced our competitors.
Based on the success of our big data approach, we conducted market research and looked at our Global Simfund offering and determined that there was demand from asset managers for a detailed view of cross border fund sales. Simfund Global Sales Dash will be released in the fourth quarter and cover over 75 percent of cross-border transactions at launch.
Meet the Author
---