Jenny Doh

Editor-in-Chief | Publishing Director | Stampington & Co.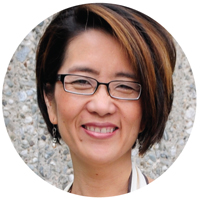 Jenny Doh, editor-in-chief and director of publishing of arts and crafts publisher Stampington & Co., refers to her readers as "paper sniffers." It's a term of endearment that keeps print at the core of Stampington's portfolio just as many other publishers jettison their print assets.
"[Paper sniffers] are people who love our magazines and are very much interested in a tactile experience that's filled with authenticity," says Doh, who initially joined Stampington in 2002 as associate editor and was promoted in 2003. "That's not to say that our readers are not tech savvy [but] they like our magazines because they unify disparate elements of art and story."
Stampington's publications, which feature step-by-directions for professional artists and hobbyists, include Art Doll Quarterly, Belle Armoire and Somerset Studio.
Doh has grown the portfolio from six brands (producing 24 spinoffs) in 2004 to 30 brands (producing 78 spinoffs) in 2008. This year she picked up right where she left off print-wise, launching the annual Apronology in February and the semiannual Art Journaling in January. Art Quilting Studio debuts in June as a semiannual. Total circulation, including recent and upcoming launches, is 1.6 million.
"We release each issue with great thought and care," Doh says. "This is important because our readers can smell something inauthentic a mile away." There are 18 people who work in the editorial/art department. One person usually equals one publication, soup-to-nuts. But that's fine with staffers, Doh says.
Yet Doh doesn't ignore Stampington's digital strategy. Overall page views grew 17 percent in 2008 compared with 2007, to 881,000 from 749,000. Unique monthly visitors rose nearly 27 percent, to 123,000 from 97,000, during the same period. Year-to-date, online sales are up 5 percent. "People are staying at home more and destinations like ours serve as an escape," Doh says, adding that Stampington is now working creating dedicated Web sites for individual magazine titles.
Vital Stats: Stampington generates more than $6 million in annual revenue, primarily from print.
Meet the Author
---