Is It Wrong to Borrow From Other Magazines?

Imitation is the sincerest form of plagiarism—the good kind.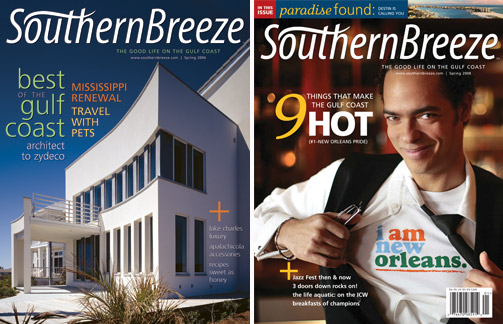 I wanted to broach the subject that I'm sure many editors, writers, art directors, et al. have come across over the years, and that's the influence of other publications. I'm not talking plagiarism, just borrowing a good idea.
In the two years that I've been at the helm of Southern Breeze I haven't been trying to reinvent the wheel, but I have been slowly nudging the magazine into a different arena with a more cutting edge, contemporary, and, yes, even urban feel. As a regional/lifestyle publication with Deep South roots, it would be far too easy to continue down the path of least resistance. But the South is changing. So, too, should its magazines.
Yes, we still have recipes, shopping, home fashion and all the things that make for a perfectly comfortable fit with our affable and affluent audience. But I felt the magazine could do more to truly reflect the diversity along the Gulf Coast.
Homage on the Range
I came up with the idea for our most recent cover [pictured above, right] while at a photo shoot for a piece on New Orleans pride as part of our new "Southern Breeze Hot List." In previous years Southern Breeze has had a "Best Of" issue but trying to fit almost 30 topics into six to eight pages resulted in scattershot, albeit eclectic, feature. After seeing the photos at the shoot, I suggested using this as a cover option when my art director, Catherine, was not overly enthused by the other shots she had in her canon.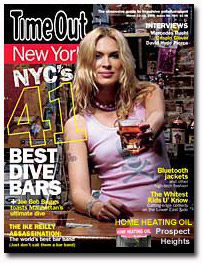 Once she sent out cover comps to me and my staff, we took a look at all 12 of them, and I picked the one above as my favorite [the one to the left is a typical cover from before my reign]. As my staff and I looked at the printouts, my assistant editor noted that the one I chose was just like a Time Out New York cover.
And then it hit me: Hell yeah, it looked like a TONY cover because that is my all-time favorite magazine and I've gleaned ideas from inside—and now, outside—its pages for a while, even before coming to Southern Breeze. For example, while managing editor at the late, great Lighting Dimensions we instituted a redesign and I suggested a "5 Questions With …" for the front of book, similar to TONY's "Three Questions For …" in its FOB. It was included and proved to be a popular featurette. (The "5 Questions With …" survived Lighting Dimensions' merger with Entertainment Design to become Live Design, which is more than I can say for the managing editor!)
So I guess my question is: Is it wrong to borrow from other magazines? It's certainly not due to a lack of original ideas on our part, but I feel that if you see something that another magazine is doing that you think would work in your own publication, then why not? Besides, when I look at some of Southern Breeze's competitors, it's obvious they've borrowed a fair amount from us. Thankfully, imitation is the sincerest form of flattery!
Meet the Author
---