Interweave to Re-Launch Workshop Magazine as Newsstand-Only

Magazine will now complement publisher's American Artist Weekend events.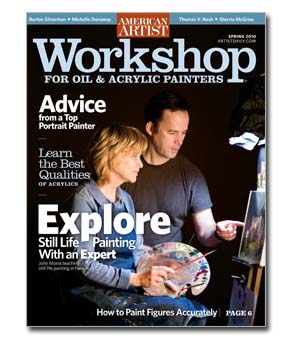 Enthusiast publisher Interweave says it will re-launch Workshop as a newsstand-only, bi-annual special issue called Painting Workshop with the Masters, dedicated to the experience of the publisher's American Artist Weekend event.
The first issue of Painting Workshop with the Masters will hit newsstands on November 24, after the American Artist Weekend in Laguna Beach, California on Sept. 23-26. The magazine will include a DVD instructional from the event.
Workshop subscribers will receive Interweave's American Artist for the remainder of their subscriptions, starting with the December 2010 issue. Workshop subscribers who also subscribe to American Artist will have their current subscription extended by the remaining number of issues on their Workshop subscription, plus one bonus issue.
Previously, Workshop had just under 10,000 paid circ per issue. Going forward, Painting Workshop with the Masters will have distribution of 20,000 to 30,000 copies through specialty distributors.
"It was important for us to narrow our focus to titles with the most prospects for long-term development and growth," said Interweave VP/art division publisher David Pyle in a statement. "Workshop has been a successful title, but it's success as a print-only publication had reached its potential. The new Workshop SIP will be packaged for newsstand-only, with a DVD of instruction and may eventually move to Interweave's eMag publishing program."
The move wasn't just bout cost savings, according to Pyle. "It's more about leveraging the strong success we're having with newsstand specials and 'bookazines,'" he adds. "Even though the circ file was growing (modestly) for Workshop, it wasn't well-suited as a frequency product. But it's a perfect fit as a bookazine. In addition, it represents a natural and organic way to tap into the success-and high-quality content-coming from our Weekend with the Masters events. In addition to using this move to establish Weekend/Workshop with the Masters as a synergistic franchise, the model for this approach shows a material improvement in operating profit for the group."
Interweave acquired Workshop in June 2008 as part of deal with Nielsen Business Media that also included American Artist, Drawing and Watercolor magazines.
Meet the Author
---