Internet Ad Revenues Hit Record High of $10.7B in Q3

New high marks 15 percent year-over-year growth.
Internet advertising revenues in the United States broke a record hitting $10.69 billion in the third quarter of 2013, according to a joint report by the Interactive Advertising Bureau (IAB) and PwC US.
According to the latest IAB Internet Advertising Revenue Report figures, the landmark high represents a 4.2-percent increase from the previous quarter's $10.26 billion total and a 15-percent leap over last year's then-record $9.26 billion in the third quarter of 2012.
"Continuous growth has been a hallmark of the digital advertising space for several years now," says Sherrill Mane, senior vice president of research, analytics and measurement at the IAB, in a press release. "These numbers support the fact that interactive has become crucial to the marketing mix."
Quarterly advertising revenue has seen a general and consistent uptick since 1996, according to the study.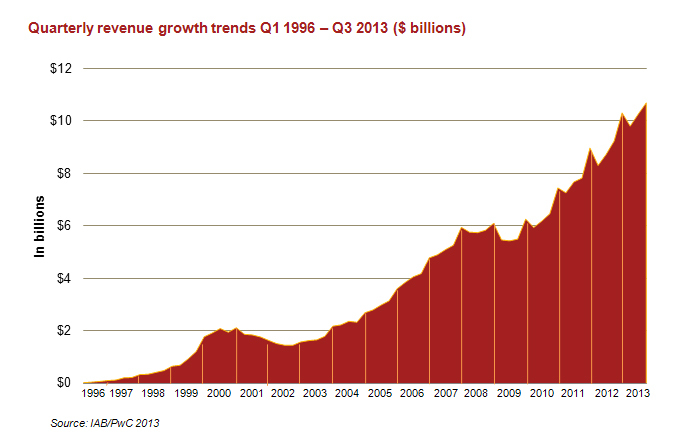 "These figures reflect marketers' trust in interactive to deliver," says Randall Rothenberg, president and CEO of IAB, in a statement. "It is indicative of the digital age in which we live, and within which advertisers need to effectively reach targeted audiences wherever they are consuming information or entertainment—often on several screens at once."
The report's highlighted gains ultimately represent the power of interactive advertising as a channel to reach consumers who are, on the whole, shifting more toward digital and mobile engagement.
The IAB consists of more than 600 leading media and technology companies responsible for selling 86 percent of the total advertising in the United States.
Meet the Author
---