The Industry Standard to Rise Again (Online)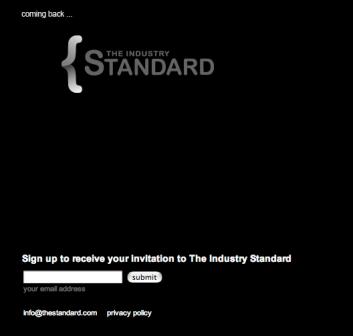 Moderating a panel of tech media publishers and bloggers yesterday at the Future of Business Media conference in New York, Hammock Publishing CEO and blogger Rex Hammock asked panelist Bob Carrigan (IDG CEO) outright if IDG was indeed quietly planning to relaunch The Industry Standard, the once high-flying magazine that covered, and famously mirrored, the stratospheric highs and crushing lows of the Internet economy circa 1998-2001. After some demurring, Carrigan said that yes, the brand would relaunch in a "blog format" online in December, confirming what some observant individuals have been wondering for the last couple months.
Introduced in 1998, The Industry Standard rocketed to an amazing 7,558 advertising pages in 2000 only to fall victim less than a year later to the equally dramatic dot-com crash. The magazine folded in late summer 2001 after negotiations between publisher Standard Media and majority owner IDG fell through-and, some industry observers felt, one too many rooftop parties. Final issues of the magazine barely scraped 90 pages and had the dubious distinction of being number-one in decline in ad pages and revenues.
But the brand lived on. Carrigan noted at the FOBM conference that the archives have remained popular and a staff has been quietly working on a social media-based platform for the relaunch. There will be bloggers and "substantial input from the community," says Carrigan. For now, there's a sign-up box inviting users to a relaunch notification.
Meet the Author
---