Indie Mag Venus Zine Relaunches

New owner sees potential for broader audience, advertising.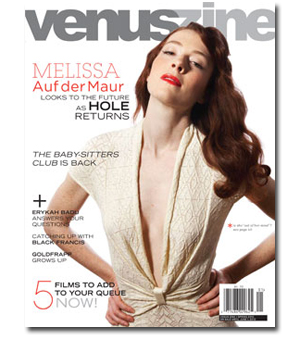 Music magazines have, probably more than any other category, a particularly strong DIY heritage, often growing up from crude, but passionate, homemade zines. Chicago-based indie magazine Venus Zine is one such title, which announced its relaunch this week under new ownership.
Venus was originally launched by Amy Schroeder in 1995, who sold a 95 percent stake in the magazine to the publishers of Chicago Agent magazine in 2006. Sara Beardsley, a former executive with BearingPoint and VeriSign, then acquired Venus in February. Beardsley declined to reveal the sale price or revenue figures, but says the primary assets in the deal included the brand itself and the business operations.
Beardsley then hired editor-in-chief Jill Russell from Martha Stewart Living Omnimedia's Body+Soul (since rebranded as Whole Living), where she was an associate editor, to lead an expansion of the magazine's coverage of tastemakers in the creative arts—aiming for a delicate balance between maintaining its original female-oriented mission while adding coverage of male creatives as well.
"I believe in the potential of this market," says Beardsley. "These are young women who are passionate about expressing themselves through the creative arts. Part of what intrigued me is it's an underserved and hard to reach market. These are women who are probably not going to respond to a lot of other magazines. They are influencers and hard to influence."
With the expanded editorial plan in place, Beardsley is focusing next on building out the magazine's circulation—currently at a 90,000 rate base—through more robust distribution partnerships. "One of the ways we intend to grow is through refining our distribution model. An emphasis on growing the subscription base is key," she says.
An outgrowth of this strategy is a partnership with Schecky's Girls Night Out, a traveling shopping event held at venues such as the Boston Art Museum and Chicago's Union Station, where the brand will be promoted to a new audience of women. The two-year benchmark, says Beardsley, is to at least triple the magazine's circulation.
Beyond growing print distribution, Beardsley says a multiplatform strategy is "very high on the priority list. I want to make the point that this is a branded content company, not just a magazine. Creating content once and then delivering it any way the customer wants are elements of our strategy for growing," she says.
Meet the Author
---