Inc.'s Virtual Office Experiment: Most Editors Say Keep The Office

Trial showed potential for big savings, longer hours.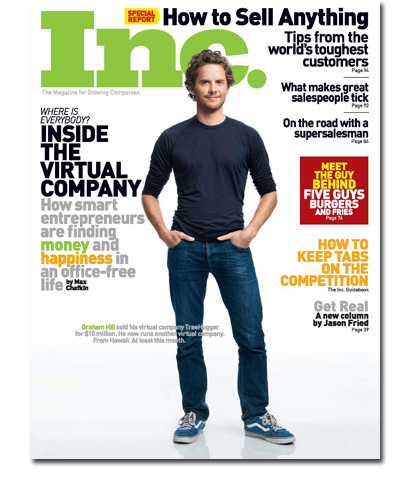 In February, the Inc. magazine editorial staff produced its April issue working from home and remote locations like coffee shops and hotels (the non-edit side remained in the office). With rent the second highest expense for most publishers (after people), the virtual office is something more publishers are considering.
Now Inc.'s April issue is hitting newsstands and includes a feature story from senior writer Max Chafkin on the experience, which yielded some surprising results and changed views of both employees who were originally in favor of the virtual office as well as some who were dead set against it. 
The Good
Cost Savings: Located at 7 World Trade Center (one of the few New York magazine offices that actually looks the way Hollywood portrays a New York magazine office), Chafkin estimated a virtual office would save parent Mansueto Ventures $500,000 a year in rent alone. As an aside, it could also save employers on salaries: Anyone considering a job in New York (or anywhere that requires a mass transit commute) must consider the $300-$500 per month in train, parking and other fees, which they build into their asking price. Chafkin does note that the one area where costs could increase is on the legal side, where publishers might have to contend with a wide range of state labor laws.    
Productivity: While some executives may fret about employees goofing off when working remotely, Inc. editors found they actually worked longer hours, eschewing lunch breaks, saving on average an hour each by not commuting and not setting cut-off times to make trains. (As someone whose wife works the occasional Friday at home, I can attest that work-at-home hours don't include lunch or a 5 p.m. stop.)
Technology: Chafkin cites the technologies that make the virtual office possible for almost any business, such as Skype (an annual phone bill for Mansueto would be about $80 per person with Skype). He also told me about some of the publishing specific tools that made remote magazine production possible, like K4 and Acrobat Pro. "We heard people say we should consider doing [Acrobat Pro] as an ongoing thing," he says. "This offers a record that's totally legible. However, the experience of reading pieces of paper is something we're conditioned to."
The Bad
Marketplace Perception: Closing the physical office for a virtual one can cast a cloud on the company in the perception of outside observers. Chafkin cited a blog from the Columbia Journalism Review about Inc.'s experiment that said, "If I were a staff member at Inc., I'm not sure I would be approaching this experiment [as] a clever bit of participatory journalism, an innovative cost-cutting measure that could help save the future of the ailing magazine industry, or just be really freaked out when it sounds eerily like what happens when a title in said industry goes to that virtual workplace in the sky and shuts down for good."
Lack of Employee Interaction: Chafkin noted that magazines in particular benefit from spontaneous hallway decisions and consultations, which are obviously lost in the virtual office.
The Ugly
Work/Life Balance: Several Inc. employees said they had trouble getting family members (especially children) to understand that they were working and shouldn't be disturbed.
Operating in a Vacuum: Chafkin said that while he was more productive when writing from the virtual office, he felt isolated when not writing. He quotes another Inc. writer as saying, "I felt tied to my computer more than I felt before. I was spending all day in my tiny apartment, not talking to anyone. I felt weird."
 
The Verdict: Keep the Office
Ultimately, most Inc. editors say they preferred the office although many said they would be in favor of a hybrid system where they get to work from home occasionally. "Nobody really hated it," Chafkin told me. "I was more productive but less happy. You spend a big chunk of your life coming into the office and it becomes a source of satisfaction. We could do this in a pinch if we had to produce the magazine remotely. The more difficult thing is if we needed to do this indefinitely."
Virtual Office Poll
Most publishers have at least a couple employees who work remotely. But what if the virtual office went company-wide? Weigh in here on whether you would be favor of your company going completely virtual.
Meet the Author
---