If Spitzer Was a Glamour Blogger, He Would've Been Out of a Job by Now

Site readers 'pulverize' resident man.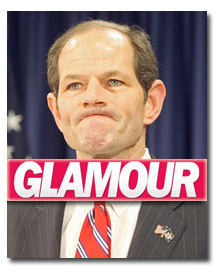 A full day after the New York Times' shocking revelation about Eliot Spitzer's involvment in a prostitution ring, the New York governor still, somehow, remains in office. UPDATE: Not anymore.
It took less time for Glamour magazine to fire a blogger after, as they say, a majority of readers wanted to "pulverize" him. Here's our story. And here's the note:
Our ultimate goal here is to open a productive conversation about men, sex, love and dating; clearly, that can't happen when the majority of readers would like to pulverize the blogger.
Glamour's hands were clearly tied. (Need to kill some time? Peruse the 200-plus comments posted here, here and here.) But did he deserve to be fired for, as he told Radar, being a "single guy with some issues and a lot to learn. So be it. I kind of thought that's what made my blog interesting"?
By the way, Glamour says it will name its new "Man Needs a Date" man soon. I can think of one candidate …
Meet the Author
---