IDG Eliminates Circ Positions at Three Titles

Outsources circulation at PCWorld, Macworld, GamePro.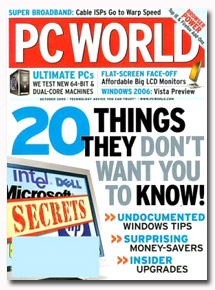 IDG has outsourced circulation for PC World, Macworld and GamePro to Miami and New York-based circ services firm ProCirc. The relationship is a new one, taking effect this month, and has resulted in the loss of "several" key circ positions associated with the titles, IDG has confirmed.
The decision to outsource the services is a curious move for a company the size of IDG, but one, according to a spokesperson, intended to leverage a deeper experience pool with ProCirc.
While IDG declined to release the names of the employees who were let go last week or confirm the exact number, David Cobb, director of consumer marketing for PCWorld and Macworld, was one, says a source with knowledge of the situation.
Shawne Burke Pecar, a former VP of circulation at IDG for PC World and Macworld, and currently VP consumer marketing for ProCirc, is handling the IDG account.
According to Howard Sholkin, IDG's director of communications, ProCirc's services were enlisted because the firm offers deeper experience and ties to industry contacts. "They have the relationships at the newsstand, they have the experience and the learning from serving a lot of different clients in the consumer and retail publishing world. So they bring a lot of expertise to the print side of our business," he said.
The staff who were let go apparently couldn't match the depth and breadth of ProCirc's services. "[The staff was] focused primarily on those three titles, whereas now we'll leverage the experience that this company has with a lot of different titles that are its customers," Sholkin said. "They will be able to apply what they've learned from them with our newsstand and subscription circulation. It's an economy of scale, there's expertise, there's relationships that this company has representing many different titles that a single company or a few brands do not have."
Indeed, IDG is a major coup for ProCirc, which will provide a turnkey solution for the three titles. "We are have been contracted to do all of their circulation and consumer marketing—subscription, newsstand, budgeting, direct mail, renewals, fulfillment management. Soup to nuts," says Cary Zel, president and founder. "This is a big client for us since they're a multi-title publisher with international magazines."
Meet the Author
---