Hybrid Events: The Live/Virtual Combo

Finding "millions" of dollars with both formats.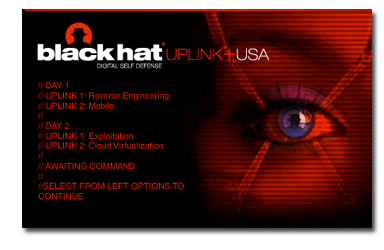 Want to get the most out of your virtual and live events? Don't treat them as completely separate entities. "The virtual world is all about enhancement, never replacement," says Michael Kushner, vice president of digital media strategy at UBM Studios, which develops in-house virtual solutions for tech publisher UBM, as well as external clients. "Virtual is never going to replace live. But we do see this as way to enhance the product. Instead of a one dimensional, three-day event, you can create a 90-day or even a year-long event that brings the community together."
For UBM's Black Hat tech security conference, which took place in July in Las Vegas, UBM Studios created Uplink, a 3D user interface that served as an online, real-time extension of the live event in which virtual attendees paid to view high quality video, audio and presentation content while also interacting with a Twitter stream during the live simulcast, which featured two keynote presentations and 20 briefings. Archives were generated within minutes of a presentation ending and remained available on-demand for 90 days.
Attendees paid $395 for the virtual package. While UBM won't reveal the number of registrants, it did say Uplink generated 1,521 views. "Each of these attendees were paid registrants and they averaged about 6.5 hours per login," says Kushner. "They logged in about three different times and saw one or two live sessions, and at least one session on demand. Aggregate, they spent over 4,000 hours in the platform."
Match the Virtual 'Look' to the Brand
Many virtual events have followed a generic format of lobby, chat rooms, etc. that do little to distinguish the event until the user gets into actual presentations. With Uplink, UBM Studios created a customized format that featured Black Hat's traditional red and black brand colors. "People who are familiar with the virtual world are probably familiar with the off-the-shelf templates," says Kushner. "In a lot of applications, particularly b-to-b, that's fine. But as the audience gets more savvy, I think the look and feel has to be associated with the brand."
Uplink featured its own small video player and an adjacent Powerpoint window. The live Black Hat conference took place in two different rooms, and UBM studios had a production staff in each room to produce content for the virtual event. "When you were watching this, the stream was 800 x 600 resolution, which is really good for a full video on the Web," says Kushner.
Opportunities for "Pre" and 'Post" Event Marketing
Opportunities exist to sell the virtual event as a standalone to sponsors or exhibitors or as part of a package to customers with a presence at the live event. Elsevier recently developed a digital, "face-to-face" hybrid for its Vaccine Congress event. Using ON24's virtual event platform, Elsevier allowed viewers to see presentations and participate in real-time Q&As. Twelve hundred virtual attendees registered for the event, while 400 live attendees were on site (virtual attendees also registered for free). A virtual exhibition floor was also provided as a value-add to five of the live exhibitors.
While Uplink focused exclusively on paid content, UBM Studios does develop sponsorship and exhibitor packages for other virtual events, which can be used as both "pre" and "post" marketing opportunities. "You may launch a virtual environment a month before the physical event that pre-connects the buyers and sellers," says Kushner. "It's a portal to registration and the sponsor can really connect with the community and screen who's coming. If it's a product-intensive category, the pre-connect can help the vendor decide which products they need to ship to the show (which can be expensive)."
The "Cannibalization" Question
The virtual event shouldn't hurt the live event. "One thing that always comes up with trade show organizers is the fear of cannibalism," says Kushner. "I've done a lot of these and I say it doesn't happen. I was at Reed for five years and at Nielsen for two and I've never seen an exhibitor pull out because there was a virtual component to a live event. What they find is they'll have new revenue from companies that were never on their radar to begin with, companies that couldn't afford to be at a live event. We have actually brought in millions of dollars in revenue from companies we wouldn't have been dealing with before."
Meet the Author
---