How One Regional Magazine is Avoiding Layoffs

Trimming trim size, and tightening the belt on freelancers.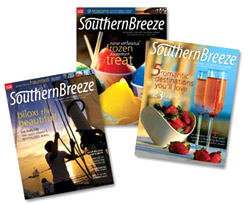 The recession has found its way into every aspect of publishing—and regional and city publishers are no exception. Thankfully, I have not had to lay off anyone in the editorial or art departments and—most importantly—we are still publishing Southern Breeze on its regular schedule, albeit in a more concise format. (We've reduced the trim size, changed paper stock, and cut each issue by 16 pages)
While I'm not overjoyed about any of these changes, I would rather make them than face the alternative that I've faced before and that so many magazines are facing now: folding.
Here's the e-mail I sent to my loyal stable of writers:
Hello All:

As you know, the country is in quite an economic pickle at the moment and publishing has been especially hard hit. Southern Breeze is certainly not immune to these trends and that's why I am writing you.

For the rest of 2009, any freelance assignments are going to be highly scrutinized as to whether or not they can be done in-house. Those that will be assigned will be assigned under a new fee structure. So, essentially if you get a freelance assignment in the future, we will unfortunately not be able to pay the same rates as in the past.

Any of the smaller features such as Dish, Words & Notes, Cheers, et al. will all be done strictly in-house.

Also please note that we cannot cover any travel expenses, including mileage.

Regarding other Compass Marketing projects, those instances will be decided on a project-by-project basis but the rates will reflect a similar decrease.

While I realize that this is not exactly good news for any of you, please note that these reduced fees are—I hope—only temporary until the economy straightens itself out. I understand if these new rates are not feasible for your own business, but please understand that the reduction in fees is a necessary cost-containment measure I am instituting at Southern Breeze and all Compass Marketing publications in an effort to preserve the future of these award-winning products. Whether it is cutting the freelancer budget or doing more of the writing myself, I will do everything I can to maintain the quality and ensure the future of these publications.

Also, take it from someone who has been there; these fee cuts are a much better option than what many other magazines are being forced to do. This will at least help ensure that Southern Breeze will remain the best source where readers can learn all about "the Good Life on the Gulf Coast" for years to come.

Thanks for your continued support and please feel free to contact me if you have any questions.

Regards,

Mark
Thankfully, the response has been very supportive from my writers. It seems everyone understands the current economic doldrums and is willing to sacrifice in order to preserve the future of the publications they care about.
If any other editors, art directors or publishers who've had to deliver similar bad news, feel free to share the methods (and memos) to your madness.
Meet the Author
---