How An Indie Music Magazine Cracked Wal-Mart

Alternative Press partners to sell one-off title in the megastore.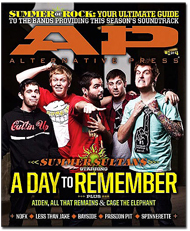 Alternative Press, a well-regarded yet relatively obscure music magazine, is getting a lot more exposure this summer than it's used to. The magazine partnered with Sony's RED distribution group to produce a one-off title called Summer of Rock. The publication, which includes a CD featuring music from 20 bands, is being sold at Wal-Mart stores across the U.S.
"It is like the 'Wild West' in the entertainment industry these days … I'm really excited to do projects like these," said AP's president and founder Mike Shea. "Pulling in partners from a variety of fields to help drive sales just appears to be more and more a standard procedure."
RED, which collaborated with AP to produce its 2008 special summer music publication (AP was one of a number of magazines that contributed to last year's publication), approached Wal-Mart again this year about doing another—this time with editorial produced exclusively by AP. "RED took care of the production and manufacturing and working with Wal-Mart's music department to secure premium placement and internal marketing support," Shea said. "We would help push the guide in the magazine, on our Web site and Twitter so they could rely on our brand strength to help push our fans to go into Wal-Mart and buy it."
In addition to the CD, the 56-page publication features guitar picks, stickers and collectible cards. AP produced four different covers featuring four bands. During the week of July 13, Summer of Rock reached number 165 on Billboard magazine's Top 200 chart, due to the enclosed CD.
RED distributed 39,100 copies of Summer of Rock to Wal-Mart stores. So far, the issue has sold 7,656 copies, Shea said.
"The idea [behind Summer of Rock] was to help push sales of new artist's CDS in Wal-Mart," he said. "I think it's a win-win in the marketing sense and fans get something that is unique and that they can't get anywhere else."
Shea said he's in talks with Wal-Mart to possibly convince the megastore to carry AP—which now has a monthly circulation of 298,000—in addition to the one-off. "We're hoping the success of this guide will help convince them even more in the strength of our brand," he said.
Meet the Author
---