How Hachette Increased Production Efficiency by 30 Percent

Complete production overhaul improves productivity.
As part of a major effort to revamp its operations, Hachette Filipacchi Media U.S. decided to bring advertising management in-house and in March implemented the SendMyAd ad portal, supported by a DALiM TWiST workflow engine. Hachette rolled out the systems—integrated by digital prepress company Blanchard Systems—to advertisers in April. Since then, the publisher says it has realized a 30 percent increase in production efficiency.
"We were working with a number of other vendors to develop an ad portal that we were using internally for about a year, that we didn't want to roll out until we knew which way the industry was going or cause confusion for our advertisers," says Michael Esposito, Hachette's vice president of operations. "We saw that SendMyAd was really building market share and liked the features and thought it was easy to use."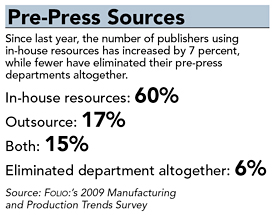 The systems allow Hachette to accept ads digitally online. SendMyAd delivers ads within Hachette's required specifications while the DALiM TWiST production automation system serves as the workflow engine. Partial page ads are placed in an editorial page and converted to PDF X1/a files for final production.
"There's less redundancy with this automation," Esposito says. "We're getting content into the company in a way that's closer to our specs, which nearly eliminates the need to go back to the advertiser."
Esposito says Hachette also is looking to expand the systems' capabilities into areas like digital image tagging and ingestion, as well as classified advertising management. "There are more ways to get content into our DAM in a more usable, quicker way," he says.
Production 2.0
Implementing the SendMyAd ad portal with the DALiM TWiST workflow engine was only one part of an expansive effort to overhaul Hachette's entire production operation. Starting in the second half of 2008, Hachette stopped generating analog proofs and went to a virtual proofing system for all of its magazines, and either eliminated or moved several processes in-house, and outsourced others.
"Once you're on virtual proofing, you can decide what functions take place internally that can be automated, like paging—converting the page to a PDF file, and decide what doesn't belong internal, like the labor-intensive creative parts that can be done offshore, which is what we're doing," says Esposito. "You're doing two things there: You're taking advantage of low-cost labor rates for certain functions and taking advantage of time differences. When we leave work, our people in Shanghai are just starting their day. When we send them files at the end of the day we'll have them first thing the following morning. We're saving time and money."
It also allowed a more dynamic workflow. "The biggest change was migration from the static handover of production tasks to our prepress vendors to a dynamic and fully-controlled production workflow environment," says Robert Fenikowski, Hachette's premedia manager. Fenikowski oversees premedia at Elle, Elle Decor, Cycle World, Car and Driver, Road & Track, and Women's Day and its special publications. "Before, we had defined production stages and workflows; art direction, editorial, color approvals, output, prepress, revisions, final approval and transmit. That was inefficient and vulnerable to process fluctuations."
One of the key components of making those kinds of changes, according to Esposito, is to create a core standardized operation plan that's flexible from magazine-to-magazine. "Our department became the central production hub with consolidated workflow procedures to service all needs of our magazine departments, regardless of location, time zone or final product," says Fenikowski. "We put together new procedures for our editorial and art departments. Art directors interact directly with our vendors on image and color approval. We created 'virtual color shows' using Web cameras and ICS Remote Director. This way, our art directors can better articulate what they need and have support from color specialists."
Fenikowski says Hachette took advantage of certain automation features in its layout programs, like auto page numbering in inDesign, page section definitions and scripting the entire file generation process. "That allows us to preflight and normalize files for naming convention, file integrity and save time by correcting files, before delivering them to the workflow," he says.
Esposito declined to say exactly how much but says Hachette's prepress costs are down "well more" than 50 percent as a result of the streamlining so far. That includes a significant reduction in headcount associated with the restructuring but Esposito declined to say how many production positions were eliminated.
And Beyond
Another key is strategically sourcing processes across platforms. "InDesign, for example, especially the CS4, is capable of delivering multiple platform content," Esposito says. "You can use it deliver mobile content, for Web sites and for print. If that becomes an environment where that's a hub, you can begin to shift functions around. Figure out how to use the tool collectively and how that changes job functions."
Cycle World recently launched a mobile application that took six weeks to develop. "It was done collectively with print and Web involved," Esposito says. "Our production manager developed a workflow plan and we stayed on time and made it happen. We couldn't have done that in such a short amount of time before."
Esposito says Hachette is working toward standardizing the roles between production, editorial and art teams across its magazines. "It's the next level of efficiencies," he says. "A lot of the structures in place now were built in the early 1990's when organizations were adopting desktop publishing technologies. The technological capabilities available today offer many opportunities to displace functions and re-engineer the process to achieve very high levels of productivity."
Meet the Author
---