Hollywood Reporter Scales Back Frequency in Relaunch Bid

As expected, Hollywood trade title to become weekly glossy magazine.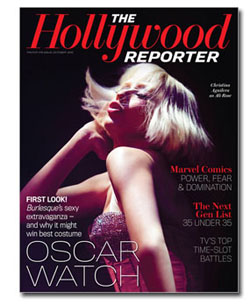 The move was rumored for months and is now apparently coming true: e5 Global Media is transforming The Hollywood Reporter from a weekday paper into a glossy weekly magazine. The title's new format will kick off next month.
In addition to the weekly print publication, THR will produce a daily digital edition that will be sent to current subscriber in PDF format, according to a report in the New York Times. The initiative also calls for "an aggressive and redesigned Web operation built around breaking news."
"I guess it shakes the system out here that a so-called trade would dare to break news that wasn't spoon fed," recently-hired editorial director Janice Min says in the report. "Well, people had better get used to it."
Min was brought on to lead the magazine's edit operation in May. Min left consumer celebrity title Us Weekly last year after her contract with owner Jan Wenner ended. During her time there as editor-in-chief—a position she held since 2003—the magazine more than doubled its circulation and won several awards.
Having undergone a series of deep staff cuts and other cost-cutting initiatives under Nielsen Business Media, THR—along with seven other trade entertainment brands—was sold to e5 Global Media, a new group formed by Pluribus Capital Management and financial services firm Guggenheim Partners. It installed Condé Nast Fairchild Fashion Group president and CEO Richard "Mad Dog" Beckman as chief executive.
[Image via NYT]
Meet the Author
---