History Channel Magazine Rakes in Ad Revenue, Raises Rate Base

The magazine will increase its circulation to 275,000.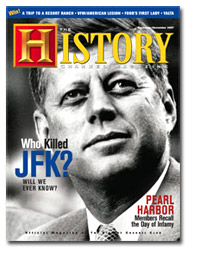 An increase in travel-related business has helped fuel The History Channel Magazine's recent surge in advertising revenue, the magazine says, which was a driving force behind the publisher's decision to increase the magazine's rate base for 2008. Effective with the March/April 2008 issue the magazine will increase its circulation to 275,000-a 175 percent spike since the magazine launched in 2003.
According to publisher Newell Thompson, "readers are passionate about history and there is no better way to experience it than to visit the battlefields, monuments, museums and heritage trails across the country."
Ad revenue in the second half of 2007 increased 44 percent over the same period last year. "As we continue to build relationships within the travel industry, our business will continue to grow in 2008 and beyond," Thompson said.
Custom-published by the North American Media Group, The History Channel Magazine is the official publication of The History Channel Club. NAMG's roster of magazines includes North American Hunter, Gardening How-To and HANDY.
Meet the Author
---