Hearst Upgrades Native Ad Services Into Dedicated Product Portfolio

Specific ad module ideas cut from 40 to 5.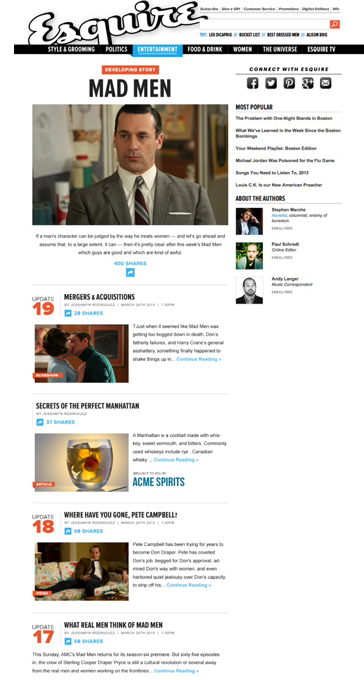 The buzz around native advertising has reached a point where some publishers are feeling compelled to shift from opportunistic, one-off programs to a formal menu of actual formats. Hearst Magazines is the latest to draw this conclusion with its recent announcement that it is now offering five specific native advertising units that can be inserted across the company's brand platforms.
Grant Whitmore, vice president, Hearst Magazines Digital Media, notes that the company has been offering native advertising opportunities for the last few years—the concept of bringing brand messaging ever tighter with editorial context is not a new idea, after all, especially on the web.
But the group gut-checked its sponsored blog posts and other contextual ad strategies as the native concept became more legitimized in the market and new form factors began appearing.
"When the groundswell of native began, we took inventory of what we were offering and put together a cross-discipline task force," says Whitmore. "The next step was to see what a more robust product offering looked like. We decided to get focused and deliver a suite all at once."
The group whittled an initial list—using specific criteria filters that required the new units must address video, social and mobile, for example—from 40 ideas down to 5. A fundamental requisite was the units had to be useful for readers, whether there's a sponsor attached to them or not.
"We wanted to make sure these were content solutions that could stand on their own two feet, even if there was no advertiser around it," says Whitmore.
The resulting five options include units that fit into developing story streams (see the "Acme Spirits" mockup above), photo collages, themed video collections, social live streams, and mobile flipbook ad units.
In every case, branded content is mixed in with existing Hearst content, but labeled with a "presented by" or "brought to you by" tagline.
And the more perfect blend, the better. "If it feels forced then it isn't going to work. So we want to make sure we have the flexibility in execution to have the right content and creative," says Whitmore. "We don't want to be the next cautionary tale."
That execution is still being worked out, says Whitmore, but generally, the content will either come directly from the brand marketer, an editor, or someone at Hearst with a bit more marketing copy experience. 
Meet the Author
---