Hearst Titles Enter Group Commerce Space

Car and Driver, Road & Track to offer exclusive product/service discounts.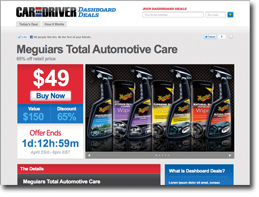 As businesses like Groupon gain speed and e-commerce through editorial shines as the mag's industry next great hope, Hearst is combining both sectors. Partnering with Group Commerce (a group buying platform working with companies like Meredith Co.), Hearst is launching a group buying initiative through Car and Driver and Road & Track magazines (the coupon pictured, right, is a mock-up and not an official product).
According to Rob Houghtlin, publisher and chief revenue officer for Car and Driver and Road & Track, this initiative is similar to what is already in motion with other group buying models.
"We'll be working with our advertiser partners and other merchant to offer special deals on vertical products/services that are relevant to our readers and are exclusive," Houghtlin says. Discounts will range in price point, from a $29.99 detailing package and a $3,500 racing school deal.
But unlike deals offered by group discount giant Groupon, the deals from Car and Driver and Road & Track will be branded deals, not third party offers. Houghtlin says that there is a level of trust built between the brands and consumers, and readers "tend to respond more quickly when they get emails from a magazine they have a relationship with".
There's also no numerical minimum to be reached in order for the deals to be taken advantage of by readers.
The initiative will begin with biweekly deals, and will eventually grow to weekly offers. Some readers may be offered a regional offer and a national offer in the same week.
Houghtlin recognizes the danger of overwhelming readers with too much communication, but believes "these will be welcome and valuable".
Revenue from these group deals will be split three ways between Group Commerce, the magazines and the vendors offering the discount. The split will be based on the type of offer, as well as the expected volume.
Houghtlin says the discounts will be promoted through a variety of mediums, including in-book, emails and on the Web, as well as through newsletters and social media. When applicable, the discounts will also be integrated into editorial content.
Meet the Author
---