Hearst Shutters Quick & Simple

Company cites escalating paper prices; will keep Web site.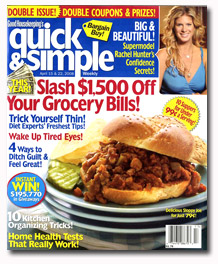 Hearst Magazines announced that it will shutter Quick & Simple, its three-year-old women's weekly. The shuttering is effective with the July 29 issue currently on newsstands.
The company will, instead, shift its focus to the 300,000-circulation magazine's "newly enhanced Web site."
"Since its launch in August 2005, the magazine has attracted a growing consumer base and excellent advertiser response," the company said in a statement. "However, due to market conditions and significantly escalating paper costs, it has become increasingly challenging to produce a low-cost, low-priced weekly."
The move comes less than a month after Hearst president and CEO Victor F. Ganzi resigned citing irreconcilable policy differences with the board of trustees over the future of the company.
Hearst says it remains "committed to introducing and acquiring print titles, investing in our established ones" and growing its digital media unit, which includes 23 Web sites and nine mobile sites.
Through March, advertising revenue for Quick & Simple was up over 50 percent over the same period in 2007, according to Publishers Information Bureau figures. Advertising pages were up 16.2 percent.
The numbers, however, include an extra issue of the magazine.
Meet the Author
---