Hearst Partners With Lincoln in Interactive Ad Campaign

Includes print ads as well as video series on Web.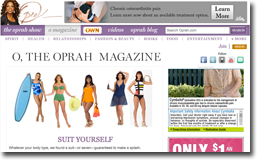 Hearst kicks off its "New Century Craftmanship Idea Series" ad campaign with Lincoln in select July and August issues of Hearst titles, as well as with a video series, that features "artisans" who carry through Lincoln's branded message of craftsmanship and design through their own work.
Debuting in print ads in O, The Oprah Magazine, House Beautiful, Harper's Bazaar, Veranda and Esquire and in videos on these titles' websites, Jeff Hamill, SVP of sales with Hearst Integrated Media, says, "These are the titles on which we agreed with Lincoln that provided the right kind of audience for the company and for this message."
The print portion of this campaign features chef Richard Blais, jewelry designer Karen Erickson and men's fashion designer Kevin Stewart. The online video series includes these personalities as well as Max Wolff, director of design with Lincoln. Blais (along with a Lincoln MKX) will be spotlighted in O, The Oprah Magazine and House Beautiful; Erickson is featured with the Lincoln MKZ Hybrid in Harper's Bazaar and Veranda; and Kevin Stewart will be seen along with the Lincoln MKX in Esquire.
The video series is featured only on the titles' websites, and are not available through Hearst's apps.
While an exact figure could not be disclosed, a program of this magnitude costs the advertiser between $1 and $3 million.
Hamill sees this ad campaign, "As a chance for the consumer to get deeper into the ideas behind Lincoln craftsmanship and Lincoln philosophy, which was really the brand driver for Lincoln in terms of this program."
Consumers can enter to win "goods" through featured videos, which Hamill defines as an opportunity to share an "experience" with the selected personality. For example, the individual that wins Stewart's experience will receive clothing and an invitation to attend an upcoming fashion show.
"It's a perfect example of what we do with corporate sales, provide custom advertising solutions for our best advertisers. In a company of our size, we firmly believe we can bundle our appropriate assets in a very strategic way for any of our large advertisers' needs," says Hamill.
"The key to good integration is to use each medium to its strength, and not have a one-size fits all approach."
Meet the Author
---