Hearst, Meredith Among Publishers Looking for 'Strong Acquisition Opportunities'

JEGI: First quarter media deal values hit record lows.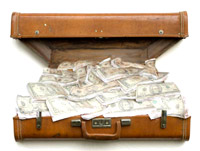 Media deals continued to take a beating through the first quarter, with values sinking lower than they've been in more than a decade, according to a report released by investment banking firm the Jordan, Edmiston Group.
JEGI tracked 129 media deals over the first three months, down 36 percent from the first quarter of 2008. Deal values, however, plummeted 91 percent to a combined $1.3 billion, the group said.
"The first quarter truly was the perfect storm in terms of everything—including a difficult economy and credit markets," JEGI managing director Scott Peters told FOLIO:. "We're seeing a shift from offline to online in terms of where advertisers are putting their capital. You layer the debt market on top of that and it makes for a challenging environment."
Of the 11 sectors tracked by JEGI, all but two showed declines in the number of deals and deal valuations. The value of consumer book deals was up 5.6 percent, but only on three deals. Meanwhile, the number of consumer magazine deals (17) was up nearly 90 percent from the first quarter last year and valuations jumped 53.3 percent ($75 million).  A number of these deals, however, were "opportunistic," according to JEGI.
"Print has been under fire," Peters said. "This market had a lot of businesses up against the ropes. These deals weren't about getting exceptional values—they were made under pressure. Media companies are consolidating in order to survive."
Although deal valuations were down significantly in the online media and technology and marketing and interactive services sectors (-86.9 percent and -79.5 percent, respectively), those deals led M&A activity during the quarter, JEGI said. Online media and technology was the most active with 43 transactions, accounting for a third of the deals JEGI tracked.
The number of b-to-b media deals was down 57.1 percent (3) and valuations were down 98.8 percent ($5 million).

Looking for 'High-Growth' Opportunities
On a brighter note, JEGI said a number of major media, information, marketing and technology companies continue to re-tool their businesses for digital growth and are "actively looking for strong acquisition opportunities of high-growth, emerging businesses."
For instance, Hearst is looking for acquisition opportunities and feels "there is potential for more deals now than in prior years," JEGI said. Meredith Corp. is looking to add complementary services to their digital capabilities through acquisitions.
"There has been an enormous gap between buyer and seller intentions, but this won't last forever," said Peters. "We're seeing in our pipeline a good amount of activity heading into next two quarters. We think that's a good indicator that companies are getting back to business and that we'll see some meaningful improvement by the third and fourth quarters."
Meet the Author
---