Hearst Looking to Boost Social Interaction On-Site

Cosmo, Elle and Marie Claire launch social-like interaction on their sites.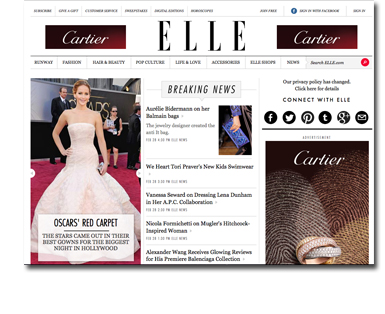 Hearst is beginning to look to its own brands as destinations for more social activity. Through a partnership with Merkle subsidiary Social Amp, Cosmo, Elle and Marie Claire are experimenting with functionality and personalization features designed to enhance social interaction on-site, in addition to what's been going on inside the boundaries of Facebook or Twitter.
"In 2012 we concentrated on, and are finally doing a good job of, engaging our audience on the social platforms," says Ross Geisel, director of audience development and social media for Hearst Digital Media. "In 2013, it's about how to make our sites more social and have readers share out to their social networks. We're still going to rely on editors to have that conversation within the networks, but we want to bring some of that energy back on the site as well."
The three brands will have three new core features that visitors will see if they log in via their Facebook accounts. "Reactions" leverage the Like function and let readers "want", "love" and "try" stories and images. The Reactions, says the company, are designed to be brand-specific.
"Trends with Friends" features a scrolling banner that reveals reactions from other readers.
And "MagShare" collects all of the reactions into a pinboard-style layout, revealing trending content across the three brands—also cleverly connecting the three with a network-like effect. 
"We hope the experience over time merges into a network experience. Imagine being on Elle.com and seeing something that's trending on MarieClaire.com," adds Geisel.
The data behind all this will be the "million-dollar question," says Geisel, but it's a key reason for the partnership with Social Amp. For now, data will help dial in the authentication process and going forward will assist in adding to the user experience through the social features.
Meet the Author
---