Hearst Launches Widgets for Seventeen

Readers can share personal 'jukeboxes' over social networking application.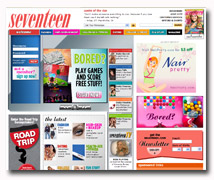 Less than a week after allowing readers to send text messages to buy products advertised in their magazines, Hearst magazines today announced a partnership with social music Web site Jango to co-brand music widgets for Seventeen.com.
Seventeen will allow readers to create personal online "radio stations" featuring songs from their favorite musicians. They can listen to the music directly at Seventeen.com and can share their stations, also called Celebrity DJ Jukeboxes, with other readers over a social networking application.
The first music collection includes songs from artists such as Rihanna, Ashlee Simpson and American Idol winner Jordan Sparks.
"Jango's a great way for Hearst to help Seventeen.com's visitors discover and experience new music," Hearst Digital vice president of content and business development Chris Johnson tells FOLIO:. "The Jango partnership is the first step in a larger strategy that will add more entertainment-focused content to all the Hearst Digital sites, which in turn creates compelling opportunities for advertisers to participate."
According to Seventeen editor-in-chief Ann Shoket, the application "helps the Seventeen brand live beyond the pages of the magazine, adding an even deeper level of interactivity and integration to the feature. The Jango Jukeboxes are not only fun and functional; we also expect these music widgets to be highly effective in driving referral traffic back to Seventeen.com."
Meet the Author
---