Hearst to Enable Ads on Printed Web Pages

A partnership with Format Dynamics offers a new class of inventory.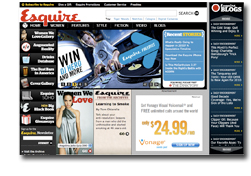 In an interesting twist on online ad inventory, Hearst Digital Media has partnered with Format Dynamics to enable ads to carry over to stories printed from the publisher's magazine Web sites. The technology will debut on GoodHousekeeping.com and will soon be applied to the rest of the branded sites such as Esquire, Cosmopolitan and Redbook.
The service is called CleanPrint and enables Hearst to offer advertisers both a "re-messaging" opportunity or a separate, contextual placement at the point of printout. Most often, using the "print" function on a Web page to obtain a hardcopy eliminates the banner ads altogether.
"With the deployment of CleanPrint these advertisers have the opportunity to deliver a message at a new and unique point of user engagement," said Ethan Holien, CEO of Format Dynamics. "Messaging users on printouts is a powerful new way to reach a target audience, and can also be combined with onscreen advertising to create highly effective new re-messaging opportunities."
The ads only appear when the pages are printed, with the theory that users who print the page are inherently committed to the content.
Not without irony, the printed page also offers a new class of contextual inventory for online ad sales. According to Format Dynamics, CleanPrint "reformats a printed Web page into a magazine-like format."
Of course, this arrangement could only work if visitors are actually printing pages at a worthwhile rate. Not to worry, said Chuck Corday, Hearst Digital Media's SVP and GM: "Printing from our magazines' Web properties is a behavior that already has scale."
Meet the Author
---