Hearst to Close CosmoGirl!

Company to shutter title after December issue; Seventeen, Teen Vogue remain.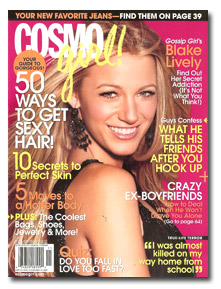 Hearst announced today that it will close CosmoGirl!, one of the last magazines for teen girls left in a once vibrant category.
The December issue will be its last in print.
President Cathie Black made the announcement in an internal memo to employees Friday, according to a report on the Mediaweek Web site.
CosmoGirl's subscriber base will be folded into its sister title Seventeen and the Web site, CosmoGirl.com, will continue. (Hearst owns several teen-focused sites, including Seventeen.com, Teenmag.com, eSpin.com, MyPromStyle.com and MisQuinceMag.com.) The magazine had a paid circulation of 1.4 million.
The shuttering of CosmoGirl!, the largest-selling monthly teen magazine on newsstands, means that Seventeen and rival Teen Vogue, published by Condé Nast, are the only major teen magazines remaining in print. Hachette folded ElleGirl in May 2006; Time Inc. followed suit, shuttering Teen People two months later.
Through June, CosmoGirl!'s ad pages were down 14.5 percent, according
to the Publishers Information Bureau. (Seventeen, by contrast, was down
5.7 percent; Teen Vogue, however, was up 4.5 percent during the first
half.)
CosmoGirl's editor-in-chief Susan Schulz will remain at Hearst to work on special projects.  Publisher Vicki Wellington will become publisher of the upcoming Food Network magazine, slated to debut in 2009.
Twittering Away
FIRST HALF 2008
AD
PAGES

 

%CHNG
CosmoGirl!
298.23
-14.5
Seventeen
376.84
-5.7
Teen
Vogue
517.81
4.5
FIRST HALF 2006
AD
PAGES
%CHNG
CosmoGirl!
363.56
4.0
ElleGirl
387.14
18.2
Seventeen
440.09
-2.7
Teen
People
302.19
-14.4
Teen
Vogue
486.24
12.4
SOURCE: PIB
Meet the Author
---