Have Publishers Been Hoarding Paper? An Analyst Says Yes, But Others Disagree

Market volatile as prices increase to 10-year highs.
It's an odd time for the paper market. Real demand for paper should be down—maybe way down. After all, folio sizes are reduced across the magazine industry, ad pages are down, there are fewer new magazines being launched, and readers and advertisers are migrating to the Internet.
But magazine-company forecasts suggest that demand will "far exceed production capacity in the third quarter," according to Tom Pankow, general manager of procurement strategy for Midland Paper, who gave an analysis of the market at a presentation in Chicago in late June before the members of the Integrated Media Consortium—a small-publisher's buying co-op. What's going on? You can't have declining demand and increased demand at the same time. The answer, Pankow says, is hoarding by magazine publishers due to the rising cost of paper.
Five Price Increases in 13 Months
The paper industry is implementing its fifth price increase in the past 13 months as of July 1 shipments, with increases at about $50 to $60 per ton, depending on grade. These increases will push most magazine grades to 10-year highs, though still below the historic levels of 1995.
Prior to the July increase, forecasts for the second half were driven by companies that were in effect hedging their bets against more increases in costs and shortages that developed from more conservative forecasting in 2007. "The projected increase in demand in H2-08 is really a 'hangover' from the significantly strong forecasts submitted to producers by most end users as a result of problems encountered in the second half of 2007, when supply was insufficient to meet demand," Pankow says. "In other words, most end users overstated their forecasts of paper needed in 2008 in a ruse to ensure that they would not be short-supplied, as was the case in 2007. Producers are still holding onto these forecasts as they look at machine bookings, especially for Q3, which is traditionally the strongest shipping period for nearly all grades of paper. The reality of the Q3 situation is that there will likely be a fairly significant inventory drawdown."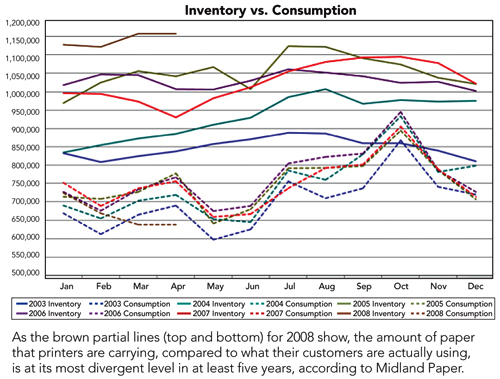 However, Guy Gleysteen, senior vice president, production, at Time Inc., says it's unlikely that large buyers have been squirreling away paper. "In every market some players will try to buy in advance, but it's not a broad strategy that's easily undertaken by a large buyer," he says. "You need warehouse space, a lot of free cash, and complete confidence that prices will rise and not fall. Those factors are more easily considered by a small publisher or cataloger, but it's not a slam dunk for any buyer—ever. There's no question inventories have been building. However, we would say that's because demand is falling in fairly dramatic fashion and paper suppliers have still not cut capacity significantly enough to avoid an inventory build."
Wayne Peterson, general manager of the Texas division of Trend Offset Printing, agrees. "We're not hoarding and we're not seeing our publishers do so either," he says. "The weak dollar has killed the import market and domestic capacity continues to decline. So supply has fallen steadily while demand has fallen more slowly."
Meanwhile, in an additional anomaly, the amount of paper inventory carried by printers and the amount of paper actually consumed is at its most divergent levels in at least five years. [See chart, above.] Pankow says printer inventory levels have ballooned primarily in response to rising prices. "It can be less costly to pay for storage and interest payments than to pay the next price increase," he says. "A secondary cause of increasing inventories is last-minute reductions in actual print demands in response to ever increasing costs and a weakening economy."
Meet the Author
---