Stagnito Media

B-to-B vet Harry Stagnito is on his fourth launch in 20 years.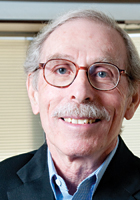 After
Ascend sold the Stagnito group to BNP Media, Harry Stagnito [pictured] and sons
Kollin and Kyle and associate Ned Bardic, determined to go out and buy
another company to relaunch the Stagnito brand. "We looked at a bunch of
things for a year and a half, right in middle of the crush when media
was starting to go backwards," says Stagnito.
The Stagnitos'
return to publishing followed Harry's original strategy of acquiring and
then reviving distressed products. In early 2009 he bought Zweig White
Information Service's Media Group (with the backing of Chicago-based
private equity firm Cardinal Growth), which included titles such as CE
News and Structural Engineering & Design. Then in March 2010,
Stagnito acquired Nielsen Business Media's four food group magazines
(Convenience Store News, Progressive Grocer, The Gourmet Retailer and
Convenience Store News for the Single Store Owner), as well as their
related Web sites and tradeshows.
"They were strong
properties—Progressive Grocer has been around for 90 years," says
Stagnito. "The problem was that Nielsen had been trying to sell its
b-to-b titles for two years and as a result had implemented major cost
containment."
Stagnito changed several things in a short period of
time including personnel and headquarters (moving the Nielsen titles
from downtown Manhattan to Jersey City), as well as putting in place a
new infrastructure. "Nielsen had vertical silos like many large
companies where production, circulation and lot of actual administrative
duties were in different silos and we had to put back into one system,"
says Stagnito.
The publisher looked to restore the monthly
frequency of some of its Nielsen acquisitions. "Nielsen had cut
frequency from 12x to 8x," Stagnito says. "We started putting those
issues back in place and in 2011 we will have full frequency."
Stagnito
also began launching new products, including spin-offs such as
Progressive Grocer Store Brands (which was profitable after its second
issue) and Progressive Grocer Independent Retailer, which is currently a
special section but spins off as its own magazine in July. The company
is also launching two new buyer's guides. "We were happy to acquire a
group with directories, one for the convenience store industry and one
for the grocery industry," says Stagnito.
The company has also
established a new custom media division. "We had one at the original
Stagnito and put that back into play in April," Stagnito adds. "It's
growing rapidly, it's a separate profit center and a great support
mechanism for the brands themselves."
Stagnito does six live
events and plans to add more in 2001. One—Hispanic Retail 360—"was
successful beyond our comprehension," claims Stagnito.  "We had 425
attendees and we'll do it again next year with [former president of
Mexico] Vicente Fox speaking."
Digital Up 300 Percent, But Print Remains The Core
While
Stagnito won't share revenue figures beyond "less than $20 million," he
says the current revenue ratio is 70 percent print, 15 percent digital,
with the rest divided among events and custom.
Digital revenue
has increased by 300 percent, according to Stagnito. Webcasts and
vertical channels are the biggest earners and the company has opened two
vertical channels—one for Convenience Store News, the other for
Progressive Grocer.
Stagnito expects total revenue to double
within the next five to seven years, and while print may drop as an
overall percentage, it will still be key for the company.
"When
we  made the Nielsen deal, I said I believed in print and nothing has
changed," says Stagnito. "I'm not unrealistic, we obviously see what's
happening with the print-to-digital migration, and we've become an
integrated media company. But if you're carrying 30 percent marketshare
in print, there is 70 percent out there that you haven't picked up yet.
It's not dead, it is changing, but few magazines have more than 25
percent share of market unless they own that industry."
Stagnito
wants to increase revenue dramatically, doubling it within the next five
to seven years. The company is profitable. "Print will be going down
against that 70 percent revenue ratio but, as total revenues increase,
that's OK," he adds. "Digital will continue to grow, but we're finding
out that it takes an awful lot of tech understanding to get to the next
level because it doesn't cost much for entry. That's something all media
companies have to face—how much do I want to put out in terms of the
technology when I can get a copy cat in two months."
Twenty Years of Startups
This
is Stagnito's fourth startup in 20 years. "The risk/benefit ratio has
become more difficult," he says of the process. "There were too many
people with money over last 10 years who did not understand media.
People today are bundling up, getting back to day-to-day basics such as
attention to detail and execution rather than acquisitions and the next
big idea."
Finding talented sales and marketing people is the
biggest challenge for b-to-b publishers today, he said. "There are a lot
of people capable of edit, production and audience development, but the
pipeline of sales and marketing has dried up."
Stagnito says b-to-b executives should have the sales skills to back up their message.
"I
believe that to be successful in b-to-b, management has to have
in-field, knock-on-the-doors training," he adds. "You can have someone
come in from the outside to be president, but someone running sales and
marketing has to have experience in the field. Without it, you're at the
mercy of second and third-hand information."
Meet the Author
---