Harry Sachinis

president | McGraw-Hill Business Information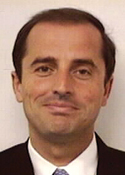 Harry G. Sachinis, president of The McGraw-Hill Cos.' Business Information Group, is guided by the notion of accelerating efforts in several key areas to get safely through a recession. These include: Focusing strategy on key customer segments, using digital flexibility, leveraging third-party alliances, and keeping a global perspective. Also, focusing a company on its people, automation and portfolio management. Sachinis' group comprises Platts, McGraw-Hill Construction and Aviation Week.
In terms of customer focus, Sachinis says, "A lot of leaders talk about customer focus, but their organizations don't reflect the required accountability. Additionally, some organizations have strayed away from their original strategy and have lost the focus on the customer needs and the clarity of their business models. This is definitely the time to recalibrate."
Digital flexibility allows you to reuse your assets efficiently. "A combination of good content management with e-commerce makes it possible to go after markets that previously were prohibitively expensive."
Leveraging third-party alliances allows a company to focus on core capabilities. "No company can be great at doing everything, especially when resources are more constrained," Sachinis says. "Create a network of third-parties that also want to serve your customers, and become the glue of that network.
If your value proposition can travel across continents, don't leave money on the table. And if you think it's costly to expand overseas, rethink the approach by creating alliances that are willing to share in the opportunity.
In a recession, sales re-training for the current environment will pay for itself, Sachinis says. Also, think about automation. "If something can be automated, automate it. Not only will it make processes more efficient and less costly, in the end it will create value for the customer and enhance their satisfaction."
Finally, Sachinis says, manage your portfolio. "This is no time to keep parts of the business that are not contributing to profitability or are not true to the strategy."
Where They Will Grow: A network of third parties with common customers and goals, allowing McGraw-Hill to become the glue of that network.
Where They Will Save: Through automation.
 
Quote: "No company can be great at doing everything, especially when resources are more constrained."
MAIN PAGE
Todd Matherne CEO | Renaissance Publishing
Toyin Awesu publisher and editor-in-chief | AvenueReport.com
Cameron Brown president | King Fish Media
Deborah Esayian co-president | Emmis Interactive
Efrem "Skip" Zimbalist CEO | Active Interest Media
Justin Smith president | The Atlantic
Steven Kotok general manager | The Week
Len Burnett co-founder, co-CEO | Uptown
Risa Crandall VP | Scholastic Parents Media
Janet Libert editor and publisher | Executive Travel SkyGuide
Mike Domke founder and president | Milo Media
Jim Prevor CEO | Phoenix Media Network
Kent Brownridge general manager | OK!
Samir Arora CEO | Glam Media
John Sateja EVP | Consumer's Union
Jim Vick staff director/publisher | IEEE Spectrum
Pete May president | Greener World Media
Barb Newton president | Sunset Publishing
Paul Mackler | CEO | HMP Communications Holdings
Meet the Author
---