Harry McCracken

Vice president and editor-in-chief, PC World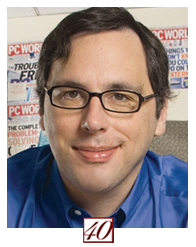 On April 30, 2007, PC World's Harry McCracken resigned as editor-in-chief over a dispute about an opinion piece that then PC World CEO Colin Crawford killed over advertising concerns.
It was a bold move that did not go unrecognized. McCracken's resignation generated a flurry of news stories and sparked a number of outraged readers to post negative comments online and to cancel their subscriptions. A little more than a week later the standoff was resolved and Robert Carrigan, president of parent company IDG Communications, announced that McCracken had rejoined PC World in his former capacity.
McCracken's editorial resolution—and excellence—have been recognized by more than just his superiors and readers. Since McCracken was named vice president and editor-in-chief in March 2004, PC World and PCWorld.com have been honored with more than 60 awards, including numerous American Business Media's Jesse H. Neal editorial awards and FOLIO:'s annual Eddie awards. He also received ABM's 2008 Timothy White award for upholding editorial standards and integrity.
"It's one part good service journalism, one part objectivity, another part creativity and a healthy dash of skepticism and a willingness to provoke," McCracken says. "Readers respond to this, and so do our peers who judge editorial competitions."
Maintaining PC World's brand integrity and making it an essential read is something McCracken says he will uphold, no matter the cost. "When we give negative reviews, report on customer service glitches, and publish investigative reports, we often catch flack from the companies we cover. But that's kind of a compliment. As our chairman, Pat McGovern, says: 'The time to worry is not when the industry is mad at PC World—but when they don't care what we say.'"
VITAL STATS: PC World has been critically recognized with more than 60 awards since McCracken took the post of vice president and editor-in-chief in March 2004.
Meet the Author
---