Hachette Cuts Frequency of Elle Accessories

Scaled back to annual; four positions eliminated.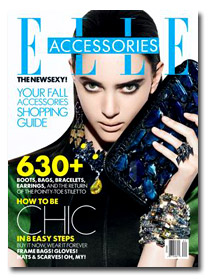 Hachette Filipacchi Media U.S. has cut the frequency of one of its special issues, Elle Accessories, from twice per year to annually.
The magazine, which published spring and fall editions, now will be published only in the fall. "Given the challenges everyone is facing in the year to come, it is important that Elle—like everyone—focuses on its core business and so we decided to publish only one issue, a fall 2009 edition," a Hachette spokesperson wrote in an e-mail to FOLIO:.
As a result of the scaled back frequency, four positions—fashion market director, senior market editor, assistant market editor and fashion assistant—have been eliminated.
With a $4.99 cover price, Elle Accessories is available on newsstands and by subscription. Hachette declined to comment on the magazine's circulation figures as it is unaudited.
Hachette's Elle has performed well this year in comparison to others in the women's fashion category. Ad pages through the first nine months were up 6.4 percent, according to Publishers Information Bureau figures. Estimated ad revenue was $144.1 million, up 11.7 percent.
Allure, Cosmopolitan, Glamour, In Style, Marie Claire, Vanity Fair, Vogue and W reported declines in ad pages year-to-date.
Meet the Author
---