Guideposts Relaunches Web Site

New architecture, social media integration designed to attract more audience.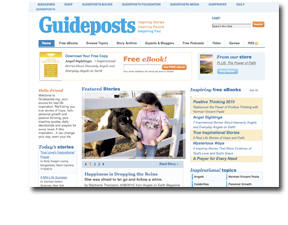 Late last week, Guideposts launched its new Web site. The redesigned site has a new user interface and navigation, more free content in the form of e-books and has integrated a feed from the brand's Facebook page. All the new elements were added with the intention of growing audience.
The redesign follows a year of explosive growth for the site. According to the company, Guideposts.org grew its traffic 850 percent from July 2008 to July 2009. Currently, the site is averaging about 250,000 monthly uniques.
According to Philip Charles-Pierre, vice president of digital media, the e-books—on such topics as daily devotionals , angel sightings and other inspirational stories—are offered for free as a way to collect email registrations. Following that, Guideposts has developed a collection of email newsletters that coincide with the ebook topics. There are nine ebooks currently available, with 20 to 30 planned by the end of the year.
The site now features more than 20 bloggers and other topical experts—part of a push for fresher daily content. "This is a big difference from what we had before," says Charles-Pierre. "The marquee and other stories will rotate on a daily basis, which gives a person a reason to come back."
The site is built on the Drupal Web CMS, and the relaunch is based on an upgrade to version 6. So far, Charles-Pierre has not reworked the ordering process for any of the new ebook content. The initial focus was to funnel the users to the right place—the conversion architecture will be worked on next.
Charles-Pierre opted to forego adding any discussion forums to the site, he says. Instead, the home page features a live feed from the Guideposts Facebook page, which currently has 14,000 fans. "It's a more efficient way to bring them into the site," says Charles-Pierre. "Whenever we post something we get lots of responses. The goal is to make it so you can see the comments [on the home page]. Commenting is one thing, but community is another. Instead of creating a new one, we've leveraged an existing one."
Charles-Pierre says about 2 percent of the site's overal traffic is referred from Facebook.
Meet the Author
---