Google's Book Search to Include Magazines

'Millions' of archived magazine articles already scanned and searchable.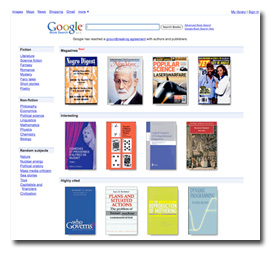 After settling a $125 million lawsuit with book publishers this fall over its digital book search project, Google has expanded the initiative to include magazines, too.
On a blog post Tuesday, the mega search engine said it already has digitized millions of magazine articles from several major publishers and will make them available on its Google Book Search service. The goal, Google says, is to help bring more archived and new magazine content online and searchable.
Publishers already on board include New York magazine, Ebony and Hearst's Popular Mechanics. According to Popular Mechanics editor-in-chief James Meigs, Google's magazine digitization program "will allow us to bring thousands of archived articles to the online world and open our readers to innovations, ideas and how-tos from the past."
Now, Book Search users will find magazine results mixed in with links to books—magazine links have are differentiated with the keyword "magazine" attached. As Google grows its archive of magazine articles, more links will also become available in standard Google.com search results.
Google is monetizing the initiative, in part, by running text advertisements alongside the magazine articles. Google says it will split revenues with publishers and will link back to publishers' Web sites.
"This is definitely an exciting development and a true testament of the need to populate the web with attractive authoritative content," Rich Maggiotto, CEO of Zinio, a digital magazine platform, wrote in an e-mail to FOLIO:. "The Google archive project is an interesting experiment which makes sense for Google and their well publicized mission. Unquestionably, the ability to match specific search terms to content for print magazine archives has been a challenge the past. This is one approach and a 'to-be-determined' economic model."
Meet the Author
---