Google Offers In-App Billing for Android

Developers will need to give Google a 30 percent cut.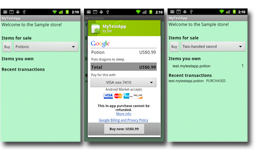 Google has announced that in-app billing is now available to developers and users in the Android Market. Publishers and other developers would be able to offer content from media files to photos as well as serialized content like chapters and episodes. "In-app billing give you more ways to monetize your apps with try-and buy, virtual goods, upgrades and other billing models," wrote Google's Eric Chu in a blog post.
Until now, developers could only monetize Android apps by selling advertising or the complete app. Google will take 30 percent off in-app purchases, the same percentage it takes on "traditional" app purchases. Google is offering a trial-run of the new service for developers.
The new billing capability makes Android Market more competitive with Apple's App Store. Some observers say developers are starting to offer apps for free with hopes of receiving payment from features and services within the app.
Last week Amazon launched its own appstore for Android, featuring four magazines at launch including Newsweek and Oprah.com. Once readers purchase an Android app at this new appstore they can access it on any of their Android supported devices like mobile phones or tablets.
Meet the Author
---