Google Magazine Project a No-Cost Digital Archive (So Far)

Publishers happy to have back issues scanned while waiting to see what happens.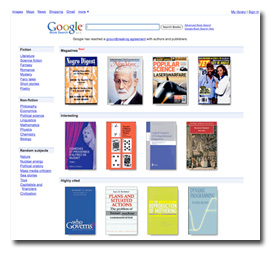 In early December, Google announced it had expanded its Google Books project to include magazines. Several publishers, including Bonnier, were already on board in a partnership that, at least for the short term, is an easy and cheap way to digitally archive decades of back issues—digitizing the magazines are at Google's expense.
But to get a glimpse of the potential of the archive project, it helps to see what Google has planned for books.
 
Compared to Google Books, the magazine project is following a much more agreeable path. The search giant ran into a snag when it digitized books that were still in copyright, without permission and without any partnerships. Google contended that scanning and indexing the complete text, but only showing snippets in the search results, was fair use. Publishers disagreed, and ultimately won a $125 million settlement.
 
Now, however, as part of that settlement, Google is free to move ahead with its original plans. "Under that settlement, Google will do all the things it wants to," said Mark Sableman, partner with Thompson Coburn, American Business Media's legal counsel. "Plus, it will be able to make full-text available to cooperating universities by a system-wide license and it will be able to offer individual viewing subscriptions to individuals and other buyers who want to view the full text. Google will set the pricing and the revenue will be split 37 percent to Google, 63 percent to the authors and publishers."
Bonnier's PopSci Gets Google Treatment
 
The specific deal that magazine publishers are getting is still unclear. "They're already doing a lot of public domain magazines," Sableman said. "As for the in-copyright stuff, the little that I can see is they're focusing much more on a partner program."
 
Bonnier's Popular Science is one of the titles Google has scanned and indexed. According to Bob Cohn, Bonnier's consumer marketing director, the partnership, at face value, is initially a cheap (read: no-cost) way to build an instant archive and maybe make some money off it in the process. "The deal is that we provide the material which was sitting around in a closet gathering dust," said Cohn. "We talked about digitizing it for years, but could never justify the expense. For our benefit, we have this complete archive and Google underwent the expense. To the degree that revenue is generated through Google, we get a percentage of it."
 
Copyright issues, particularly with freelance content, seem to be protected since Google is essentially making a "photographic" copy of the magazine in its original context. "I don't think there are any issues because we're not taking an author's output and repurposing it because it's a photograph of the magazine, which is our product," Cohn said.
There is also a link to the magazine's standard subscription form, but so far Cohn's not expecting much impact on his P&L. "I'm not holding my breath to wait and see how many people take that path, but if we sell a couple more subscriptions we're happy to do it."
Meet the Author
---