Google CEO Eric Schmidt Steps Down, Becomes Chairman

Co-founder Larry Page becomes CEO April 4.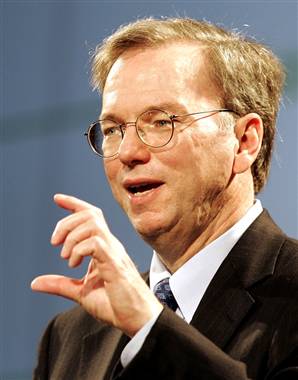 Google announced that CEO Eric Schmidt [pictured] will step down April 4 and transition to the role of executive chairman. Co-founder Larry Page will take over as CEO.
No real explanations were given although Schmidt wrote in a blog post, "Larry, Sergey and I have been talking for a long time about how best to simplify our management structure and speed up decision making."
Schmidt has had a phenomal tenure. According to comScore, Google sites drove nearly 179 million unique users in November (behind only Yahoo) and Google generates 66 percent of all U.S. searches. The company generated $8.44 billion in fourth quarter 2010 (up 26 percent from fourth quarter 2009).
However, there have been some recent and very public gaffes, including Schmidt drawing heavy criticism for seeming to dismiss privacy concerns over Google products that inadvertently collected people's e-mail addresses and passwords over Wi-Fi networks, The company also gave up on plans to enter radio and print.
Despite all the talk of "Google: Friend or Foe" in recent years, publishers remain dependent on the company and are anxiously awaiting the launch of a Google-operated newsstand.
Meet the Author
---