Google Analytics Adds Social Engagement Tracking

Publishers can track activity related to Google's +1 button, other social media.
On the heels of Google's two social media announcements—its +1 buttons and more recent Google+—the company has just announced the ability to track social engagement and activity in its Analytics package.
As Google software engineer Dan Rodney notes in his post on the new tracking functions, "it's not real until you can measure it." So Google Analytics will now allow site managers to measure how the +1 button—a social recommendation function for Web sites— and other social media interactions impact your traffic and on-site behavior.
With Google Analytics, you can now see, if you have the +1 button activated for your sites, how many times your site has been "+1'd"; how it impacts organic search traffic; and clickthrough rates and geographic and demographic information about the users who +1'd your site.
Additionally, other reports allow you to measure other social activity in addition to the +1 button—tweets, likes and so on. A Social Engagement report lets you track visitor behavior related to the +1 button. The Social Actions report allows you to track activity related to other social media platforms. And a Social Pages report shows you which pages are recording the most social activity.
Those sites that have already added the +1 buttons, says Rodney, will automatically have Social Plugin Tracking for +1 activity enabled in their Analytics account. Extra steps are involved to enable tracking for the other platforms.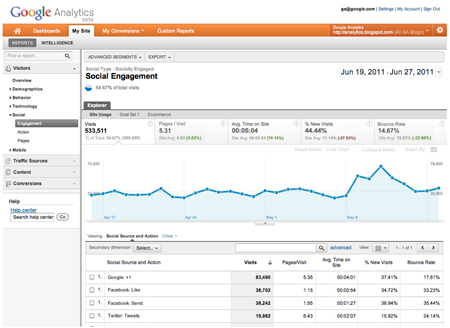 Meet the Author
---