Goodenough New CEO of Summit Business Media

Replaces publishing veteran William Reilly, who will stay on as chairman.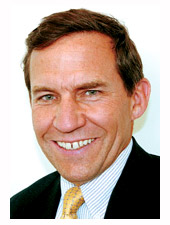 RELATED VIDEO: Q+A with Goodenough
Summit Business Media has promoted president Andy Goodenough to CEO.
Goodenough replaces publishing veteran William R. Reilly, who will continue to serve as chairman and remains an investor in the company. "Going into the formation of Summit in November 2006, my plan was to drive the initial growth of the business for several years as CEO, and then step back to the chairman role," Reilly said in a statement. Prior to joining Summit, Reilly served as chairman and CEO of F&W Publications (now
F+W Media); as founder, chairman and CEO of Primedia; and as president of the Macmillan Publishing Company.
Goodenough has more than 30 years of experience in b-to-b media. He served as president of the USB Corporation and as publisher of U.S. Banker before its sale to Thomson Media in 1993. He then served as president of Thomson's banking publishing/conferences group and launched Highline Media in 2003, which was acquired as part of the formation of Summit in 2006.
Earlier this month, Summit
purchased
WiesnerMedia's Denver-based Financial Group, marking the company's seventh acquisition since its launch. Summit's current portfolio includes 25 magazines, 150 reference books and electronic products, and 100 live events.
Meet the Author
---