Good Morphs Into Civic-Minded Social Network

Editorial and user generated content cornerstone of business model.
Good is back, and not as just a magazine. After laying off the majority of its editorial staff in June, the brand has reemerged as a new kind of media company—part social network, part news site and part print magazine.
"Everything was working pretty well, but there was still potential to grow along the traditional media curve, and by that I mean grow an audience," says Ben Goldhirsh, CEO of Good, who launched the company in 2006. "The bigger opportunity than pursuing that path was to take an evolutionary step and move from media to community."
Good is still published on a quarterly basis and has an editorial staff of 12. The roles of these staffers, and the structure of the Good business, however, is not that of a traditional media company.
"The foundation of the business has switched from an audience to a membership," says Goldhirsh. "In turn, Good.is (the website) becomes a place to not only consume content we create, but an environment where users can join and share things they think are good—whether it's something to learn or to do, and you can build a network of people you respect and in turn find things to learn and do beyond what we create through our editorial. It becomes a far richer ecosystem."
Goldhirsh says that the site is primarily supported through advertising, though there doesn't appear to be very many online at the present moment. Those that wish to share and like content must join the site—a membership is free, unless requesting the print magazine, which runs $25 for a year subscription. The print publication is all editorially driven, though topics will focus on popular topics within the community network.
Goldhirsh declined to offer the number of individuals that have joined Good.is.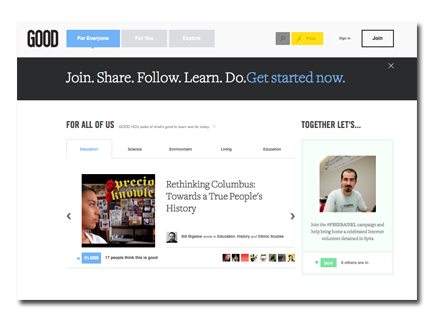 "Media has always provided leadership and will need to do so going forward—I see that in the role of our editorial team in both what they create and elevate," he says. "The new Good is a hybrid of a media platform, a social networking platform and a collaborative action platform. It feels very similar to a media company, but it provides a social feed based on a network—if Facebook provides a social feed and LinkedIn provides you a professional feed than this provides you a civic feed."
Editors manage the content that is pushed out to the entire social networking platform and Goldhirsh says that "you kind of have to be ordained by the editor to be able to actually publish an original post on the site," in its "For Everyone" section, which all users see. However, after joining, a user will see in the "For You" section a customized view based on the individuals, topics and groups they follow.
Like other social platforms, a user creates a profile and can comment on posts by others. Additionally, users are automatically signed up for The Daily GOOD newsletter and members can also register to receive Good's monthly newsletter as well as Good Maker Updates, which provides information on the company's social funding platform for "good ideas."
Unless a user clicks on subscriptions, the site does not prompt individuals to purchase a subscription to the quarterly print product. Good hopes to be able to offer paying members more than just its magazine, adding on access to events and other possible benefits to increase the value proposition.
Goldhirsh is creating a team to support this new media mix strategy—the company's chief operating officer, Laura Goldberg, for example, was general manager of NFL Online and the former chief operating officer of Napster.
"I think you'll see aggressive pursuit of potential on the digital front," add Goldhirsh. "Before, we would revamp the site once a year. Now we're improving the site every week and constantly watching the data of how the community is enjoying the product and examining what we can change and improve and make it better. The ethos of rapid iteration is a very tech-native sensibility, and that's something Laura brings to the company."
Stay updated on the latest FOLIO: news—follow us on Facebook & Twitter!
Meet the Author
---