Glen Giles Murder Hearing Postponed Again

Pre-trial date moved to September.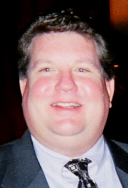 The pre-trial hearing in the murder case of former Hallmark Data Systems executive Glen Giles [pictured] has been postponed until September.
The pre-trial hearing originally had been set for early April but was continued. At a court meeting last month, it was continued again until September. "This is not at all uncommon for murder cases like this," a Burbank, California police spokesperson tells FOLIO:. "Honestly, I wouldn't be surprised if it gets continued again after September."
Giles, 47, an influential figure in magazine circulation, was stabbed multiple times at his home in Burbank in February. Police there said the alleged murder was not a random act and named Jorge Ernesto Villalobos as the primary suspect.
Villalobos, who could face 25 years to life in prison if convicted, pleaded not guilty. He was being held on $1 million bail.
Meet the Author
---