Give Karl Rove a Blog

Is Newsweek wasting its talent on print?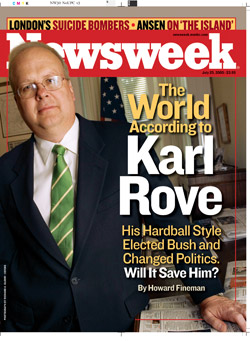 As part of its pre-election push, Newsweek recently announced the addition of ex-White House senior advisor Karl Rove as a columnist, his glossy appointment coming a day after the magazine named Markos Moulitsas, founder of the popular liberal politics blog and tradeshow Daily Kos. Good move by editor Jon Meacham: a right-wing pundit to balance Markos' lefty politics. But why waste two outspoken personalities on the print magazine?
Here's an idea: Give 'em both Newsweek-branded blogs and have them face off before, during and after debates and conventions, allowing readers to join the conversation via comments. (Some media people still consider "comments" to be a risky wasteland of the delusional and the deluted, but I guarantee lightly-monitored comment-thread can frame such a debate in a much more civilized way than, say, cable.)
Meet the Author
---