George Lois' Esquire Covers to Go on Display at MoMA

Legendary designer's controversial work influenced a generation.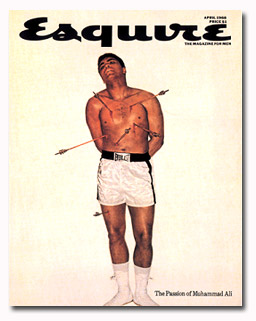 George Lois—the legendary art director whose iconic 1960s
Esquire covers influenced an entire generation of magazine designers—is getting
his due in the art world.
Lois' work for Esquire is set to go on display at New
York's Museum of Modern Art later this month. The show, "George
Lois: The Esquire Covers," is scheduled to run from April 25 to March 31,
2009.
A wall in the gallery
will feature original artwork alongside seven of his most iconic covers,
including his controversial portrayals of Muhammad Ali (as the Christian martyr
St. Sebastian) and Andy Warhol. The museum will feature 32 of the 92 covers
Lois did for Esquire between 1962 and 1972.
Lois was credited
with pioneering cover montages that would often include multiple elements,
including clip-art—now a common practice in the digital era—and a minimalist design
approach.
His December 1963 cover, featuring boxer Sonny Liston as a
black Santa Claus, sparked substantial criticism and reportedly lost Esquire an estimated $750,000 in ad
revenue, according to the release accompanying the exhibit. But riding
critical acclaim—much of it driven by Lois' covers—Esquire made
more than $3 million in profit as annual circulation rose from 500,000 to 2.5
million.
Meet the Author
---